From the blog
Behind the Lines 2019: Our curator's top five
Behind the Lines 2019 is open now! 
To bring Behind the Lines 2019 to life, curator Jennifer Forest had to sift through over 1000 of the best Australian political cartoons from the past twelve months and narrow her shortlist down to just 86. Now that's a pretty tough gig, but in the interest of bringing you an easy-to-read listicle, we thought we'd make it even tougher… so we've asked Jennifer to pick her top five faves from Behind the Lines 2019: The year's best political cartoons. 
To make it into Jennifer's top five, a cartoon needed to demonstrate:
a humorous or poignant take on a prominent 2019 issue
refined use of imagery, colour, or words to communicate a clear and effective message
So here we are - presented in no particular order, Jennifer's top five picks from Behind the Lines 2019...
---
We're Not in Canberra Anymore. David Rowe

David Rowe's cartoon appeared shortly after Julie Bishop announced her resignation from parliament. Her red shoes have come to symbolise the defiance, and the fate perhaps, of a capable female politician amidst the turmoil of politics. Rowe continues in this tradition by placing Julie Bishop in her red shoes on the battlefield. In the background he references two players in the 2018 leadership spill Peter Dutton and Mathias Cormann.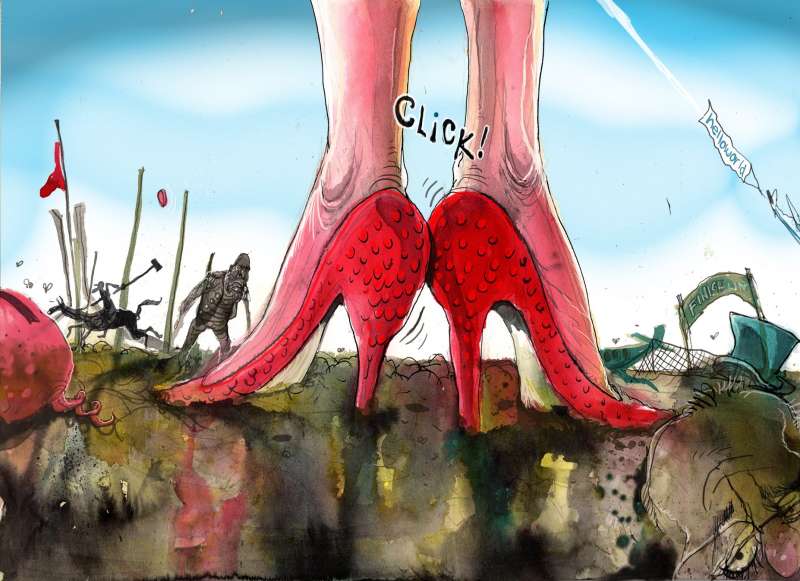 Christchurch Fern. Pat Campbell
Pat Campbell reflects on the pain and horror felt around the world following the terrorist attack by an Australian man on two mosques in Christchurch, New Zealand. Likewise Campbell's image of the New Zealand silver fern with people at various stages of prayer also went global. In Campbell's cartoon many viewers found a message of hope and resilience, and our common humanity staring back at the face of hatred.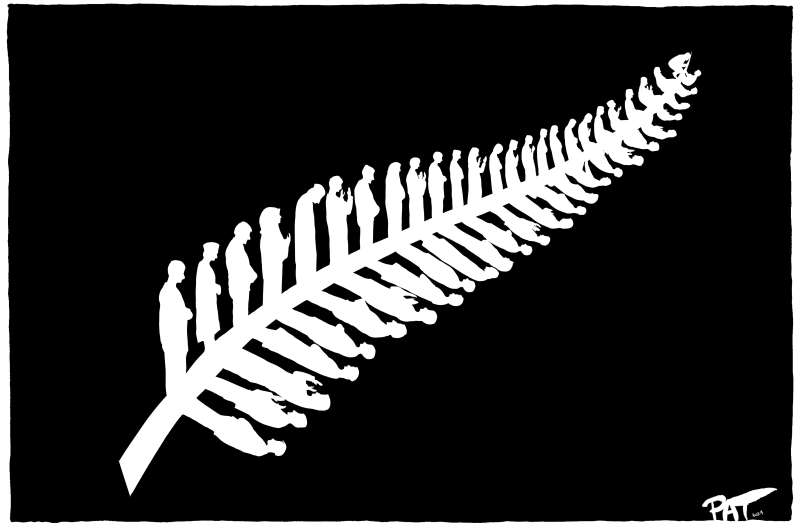 Eurovision Campaign. Mark Knight
Mark Knight layers the Australian election over the extravaganza of Australia's entry into Eurovision 2019 by placing Scott Morrison and Bill Shorten onto the five-metre theatre 'sway poles' used by Kate Miller-Heidke. With colour, movement and clever layering of two different concepts, Knight invites the viewer to reflect on just what political parties and individuals will do to get elected.
Health Warning. Jon Kudelka
Jon Kudelka juxtaposes two small human figures in the bottom left hand corner against a line of large coal trucks. Simple and effective with only seven short words, Jon Kudelka invites the viewer to laugh out loud at individual and societal actions. This cartoon is selected for the curator's pick due to its use of succinct, humorous and insightful commentary on the nature of coal as an energy source, relevant to our theme on land, water and climate.


Constitutional Recognition of Indigenous Australians. David Pope
David Pope's cartoon offers a ray of sunshine on the announcement by the Minister for Indigenous Australians, Ken Wyatt that he would work towards a referendum on constitutional recognition for Indigenous Australians. Using a popular movie reference, Pope inserts politicians from both sides to show the bipartisan supportfor recognition in the constitution. Ken Wyatt drives the bus that wears the face of Scott Morrison, while ALP Senator Pat Dodson sits in the bus giving a hand to the next generation, symbolised by the child, and Linda Burney, ALP member of the House of Representatives pushes the bus from behind.