From the blog
Here are Ash's top picks from our latest exhibition
In my job, I spend a lot of time with objects. I work in the Heritage and Collections team at the museum, and for Finders Keepers: Collectors and their Stories, my job was to carefully escort 234 objects drawn entirely from the Museum of Australian Democracy Collection on their journey from collection storage to display.
While preparing for this exhibition you may have found me seated at a workbench with a lineup of intriguing telephones, dust brush in hand.
Or perhaps you would have found me here, surrounded by a pile of archival tissue paper, gently unwrapping delicate china souvenirs.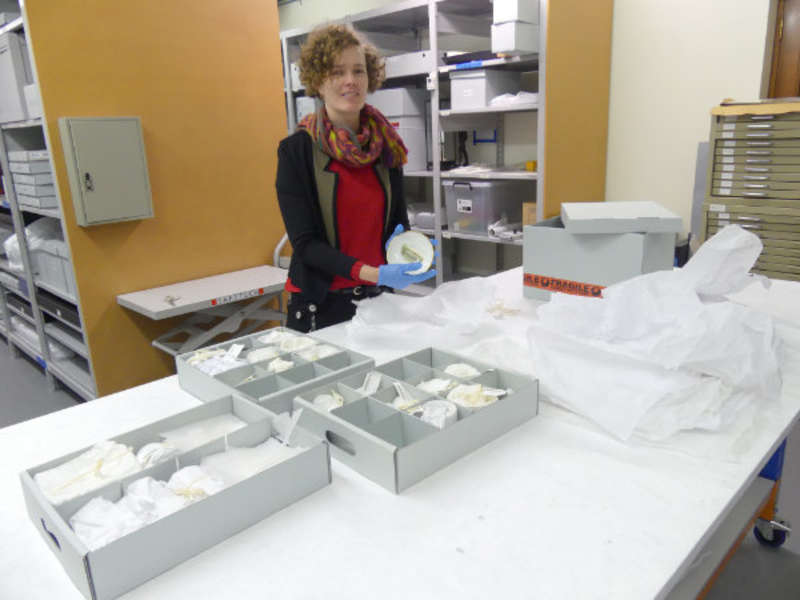 In preparing objects for display, there's a lot of action behind-the-scenes including hours of condition checking, photographing, cleaning and plenty of installation discussions with my colleagues on the way.
Along the journey I began to gain an understanding of the five collectors featured in the exhibition through the objects they amassed. I had my eye out for my favourite five objects. So, here is the Museum of Australian Democracy's version of the 'packing room prize' as I count down my top five.
Number 1 from the Neville Bonner Collection
A love note, wallet, pillow and socks… of all the collections featured in this exhibition, Neville Bonner's is my standout favourite. The items are personal and humble, and together paint a wonderful picture of the different facets of Neville's life: his role as Senator, his dedication to family, his pride in his Aboriginal heritage and his Christian faith. I'm particularly fond of a pair of Bonner's socks that we conservation cleaned prior to display. Cleaning the socks was very effective, and it is wonderful to see how fantastic they look on their custom-built and (almost) invisible mounts in the exhibition.
Number 2 from the Anne Picot Collection
When the Museum first received Anne Picot's large donation of political T-shirts and badges, I was awed at the breadth of the issues that she had campaigned on. My favourite object in this collection is a well-worn anti-uranium mining T-shirt. For me, the well-loved condition of this shirt epitomizes the passion, endurance and sheer determination of Anne's protest journey.
Number 3 from the Tim Fischer Collection 
My favourite item in former Nationals Leader Tim Fischer's collection is the bright yellow campaign magnet bearing the delightfully pithy slogan 'Win with Tim'. I like the unusual form of the campaign material – a magnet designed to be attached to a car – and the simplicity of the slogan and graphic design. 

Number 4 from the Neil Baker Collection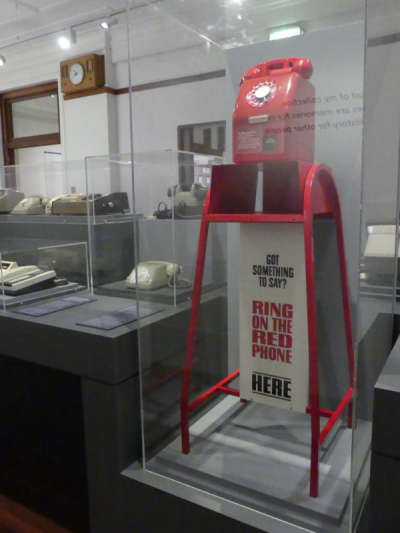 I spent a lot of time getting to know former telephone technician Neil Baker's collection of telephones as I prepared them for display. I particularly enjoyed reading the names on the old keypads and marveling at how quickly technology has advanced. My absolute favourite in Neil's collection is the red public phone. The colour of the phone is undeniably appealing, as is the sweet self-promoting message, 'Got something to say? Ring on the red phone: here'.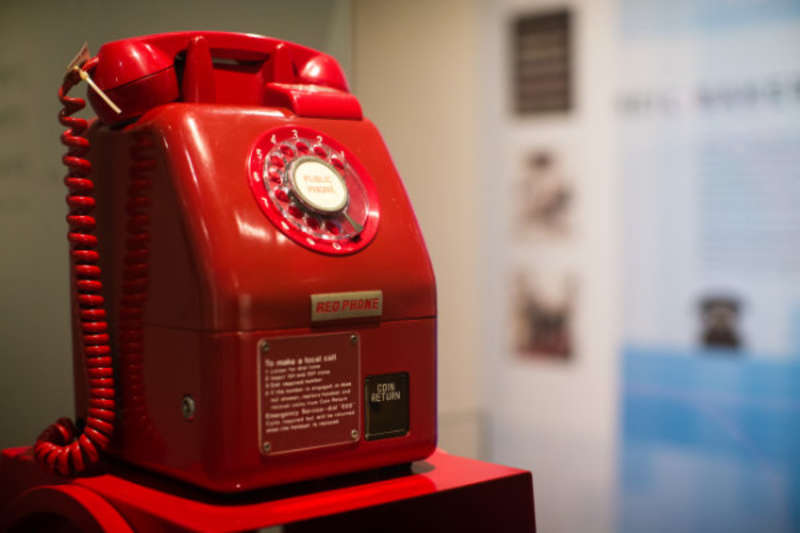 Number 5 from the Kay Patterson Collection
Former Senator Kay Patterson's collection includes delicate and sophisticated souvenirs, and a small dose of fabulous kitsch. This flimsy little salt and pepper shaker set are all character, no class! Although functional in design, I cannot imagine anyone actually using a souvenir like this. This pair of shakers are in pristine condition – I think they must have been kept snug in their cardboard packaging.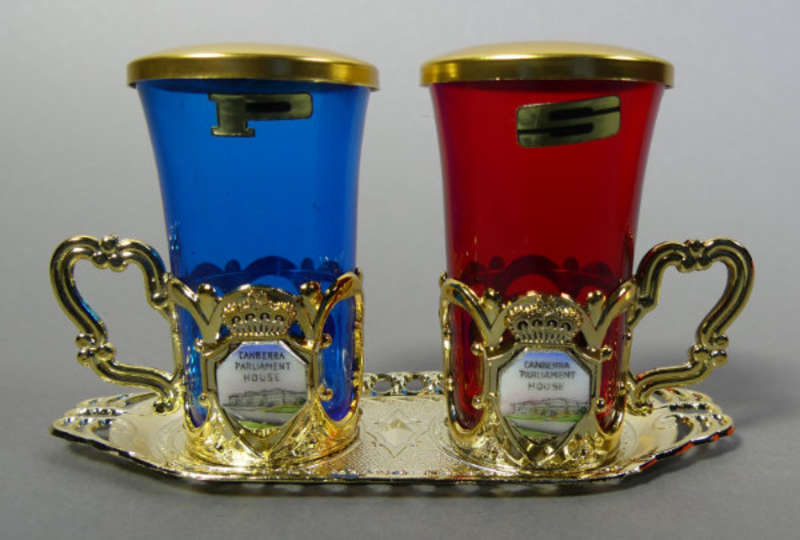 ---
 You can view my favourite five and find your own favourites in Finders Keepers: Collectors and their Stories.