From the blog
From Tulips to Trenches: Comings and goings in the Old Parliament House Gardens
Old Parliament House is flanked by two stunning rose gardens – the House of Representatives and the Senate Gardens. The Gardens were established in the 1930s and since that time have seen many comings and goings, some planned and some not. As Canberra emerges from winter into spring, it is a great time to reflect on some of the lesser known things about these beautiful historic gardens, including some of their temporary occupants.

Plants that come and go
Some of the plants in the Parliamentary Gardens were only there for a short while, but this was not always by design. While many flowers were cut from the Gardens to decorate public spaces and offices in Parliament House, other plants seemingly developed legs of their own and left. Oral histories from the gardeners recount several thefts. A list of the plants that were stolen included a bed of carnations, a rose, and cabbages – although the thieves graciously chose to leave the gardeners' tools behind. Animal thieves, particularly hares, were also reported. A report in The Canberra Times in 1932 described this as 'the nightly depredations of stealthy marauders'. It noted that the gardeners felt defeated by the hares, who had evaded all attempts to stop their trail of destruction.
Trenches and Garden Armies
While marauding hares brought destruction to the Gardens in the 1930s, even greater threats came during the 1940s as a result of World War II. With the advance of Japanese forces in the Pacific, the threat of an air raid over Canberra was a very real issue for political consideration. Parliament House was considered a prime target, so measures were taken to ensure the safety of the politicians and staff in the building.
Trenches were dug in the Gardens for people to hide in if a raid occurred. It was even proposed that Parliament House be repainted from its familiar white to more earthy shades of brown and green, to allow it to be better camouflaged in its garden surroundings, although this never eventuated. Responding to wartime imperatives, a 'Garden Army' was also formed. The Canberra Garden Army formed in 1942 to overcome the shortage of fresh vegetables. They sought to better educate Canberrans on gardening and vegetable growing, and were given permission to grow their vegetables in the Parliamentary Gardens, with a reciprocal arrangement that they would provide extra veggies to Parliament House when needed. With the end of the war, and the attendant threat of air raids, these measures were no longer necessary. Trenches were refilled, vegetable patches replaced with flowers, and Old Parliament House retains its bright white coat of paint to this day.  
Bees then and now
On April 1st 1976, an unusual request was made to the Speaker of the House of Representatives, Billy Snedden. It was from the Member for Holt, William Yates, asking to bring some beehives to keep in the House of Representatives Garden. Thinking this was some kind of April Fools' Day joke, Snedden agreed to it. Soon, beehives arrived in the Gardens and Yates, an avid apiarist, could be seen roaming the halls of Parliament in a beekeeper's outfit! Once the joke, or lack thereof, had been realised, proper approvals for the bees were then sorted out, and they became known as the 'privileged bees'. The honey that the bees produced proved popular with politicians of all parties, and were even used to sweeten up opponents. While Yates' bees left the Gardens when he left politics, more recently beehives have returned to the House of Representatives Garden. In 2019, a hive of bees found a temporary home in the Gardens as part of a three month trial to help pollinate the flowers.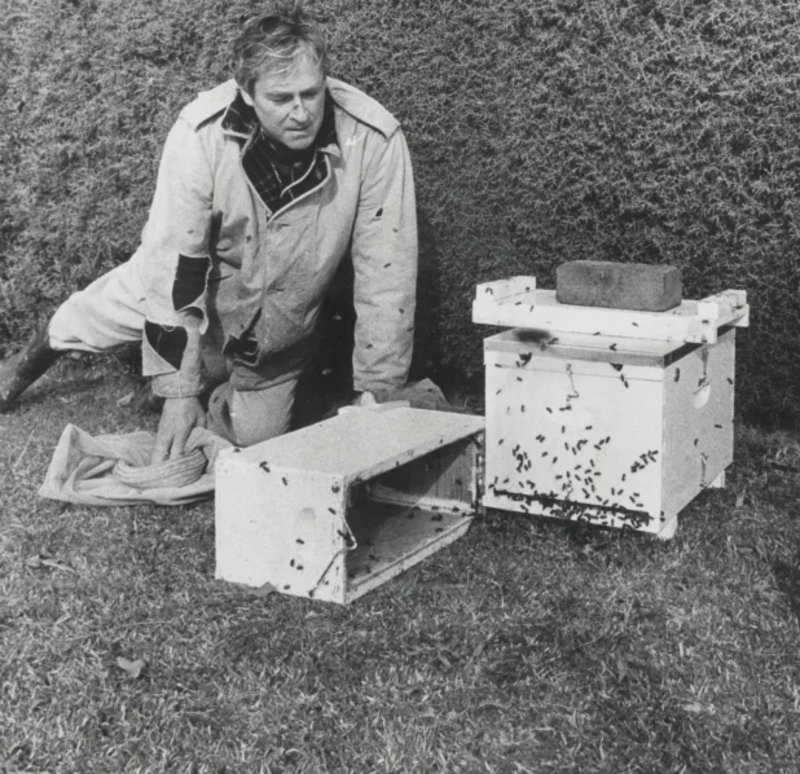 Now you see it, now you don't
Parliament House saw many renovations and extensions over six decades, and one of these even spread its footprint into the House of Representatives Garden. In 1985, a temporary annex was added to the House of Representatives Garden, with a skybridge connecting it to the main Parliament building. The Representation Act 1983 added 35 new politicians to Australia's Parliament, and so the Annex was built to provide more office space for the already overcrowded Parliament House. It was only a temporary, prefabricated structure and, despite its practical value, it clashed with the symmetrical aesthetic of Parliament House. A 1993 Canberra Times article described it as 'an office annex whose removal now would be a major improvement to the landscape'. It was removed in 1999, and in its place now stands a wisteria arbour with the Centenary of Women's Suffrage Timeline and Fountain.
Wheel in some colour
During spring 2020, there will be another temporary occupant at Old Parliament House. We are delighted to be part of Floriade Reimagined, with wheelbarrows of Floriade colour brightening up our House of Representatives Courtyard at the same time as the Gardens surrounding our building burst into life. Come and explore the Old Parliament House gardens and visit MoAD, where you can chat with us about the many people, animals and plants who have come and gone from Old Parliament House.