From the blog
Having a whale of a time with our badge collection
For the past six months I've had the pleasure of working with our Heritage, Exhibitions and Content Development teams and our external designers/developers to produce the Wear your colours touchscreen interactive for the Living Democracy exhibition. Wear your colours is a window into the museum's badge collection where you (our visitors) can read stories about the badges and what they represented to those who wore them.
At the start of this project we were presented with two objectives: first, provide an alternative to the badge object labels and second, to encourage you to explore our broader badge collection—to show you more than what we can fit within the physical display.
Here's what the badges showcase in Living Democracy looks like: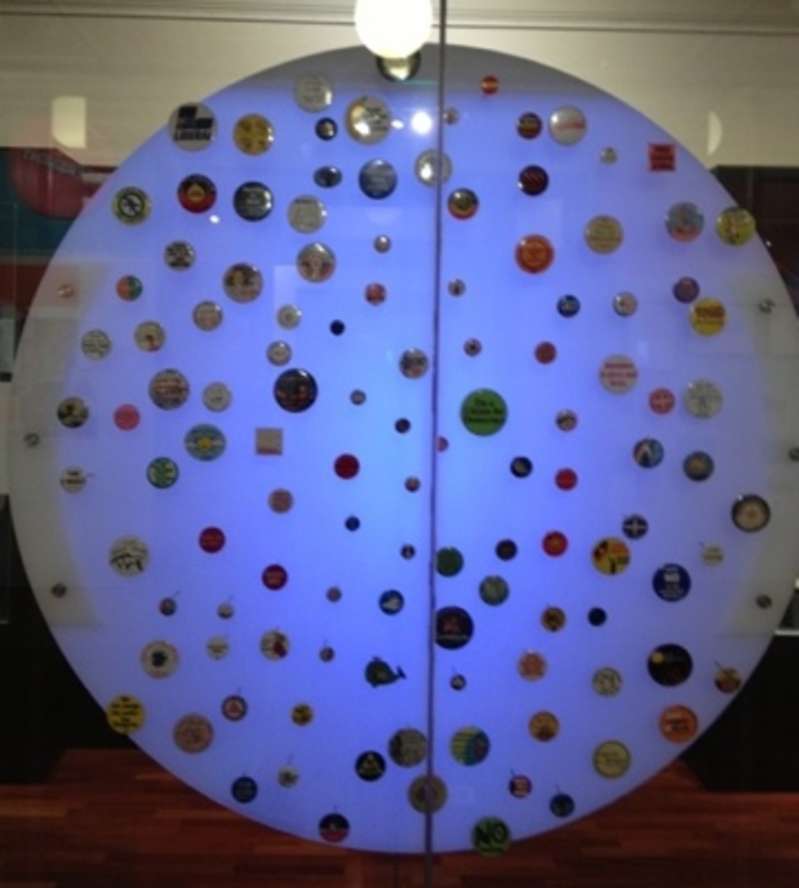 And here's the main screen of the interactive:
Notice a similarity? The wheel-like positioning of the badges on the main screen of the interactive mimics that of the badges in the physical display. So, instead of having to shuffle through 121 hardcopy object labels, voila, now you can navigate to stories connected to the badges in one touch.
What's more, we've grouped sets of badges into date ranges and common themes. This means you can easily delve into more of our badge collection.
Wear your colours houses just a fraction of our badge collection, many of which have been donated to the museum via our Great Badge Swap program. We'd like to add to the interactive over time so if you have a badge or badge collection that fits the bill.
The Wear your colours interactive sits alongside the badges showcase in the Living Democracy exhibition. Next time you're at the museum, have a play and let us know what you think.