From the blog
The journey of an object: Neville Bonner bark painting
This article was published in 2017. Our Finders Keepers exhibition is now closed.
Although the theme of NAIDOC week this year is language, we thought it would be fitting to look at how Indigenous stories are told through art. A bark painting of Aboriginal Senator Neville Bonner's life tells a story as intricate and moving in imagery as any story in words. Its journey from creation to exhibition is an interesting one, and is now part of the ongoing story of this remarkable object, currently on display in the museum's Finders Keepers exhibition.
Creation
During the 1970s, a Palm Island artist by the name of Bill Congoo decided to depict the life of his friend and distant relative, Neville Bonner, on a sheet of bark. Although not a commercial painter, Bill skillfully outlined Neville's life from his birth under a palm tree in northern NSW, his life on Palm Island where he and his wife Mona raised five children, his increasing interaction with white Australia through his political activity, and finally his elevation to the federal parliament in 1971 as the first Aboriginal senator. Bill gave the bark painting to Neville during one of the latter's visits back to Palm Island in the 1970s. Neville treasured the painting, and on his death in 1999 it passed to his youngest son, Alfred 'Tiny' Bonner. 
Donation
In late 2015 Neville's great-niece, Narelle Anderson, contacted the museum to ask if we would be interested in receiving the Bill Congoo bark painting as a donation. Once we saw a photo of the artwork we realised what an important piece it was, and what a significant addition it would be to the museum's existing Bonner collection. By this time Tiny Bonner, still living on Palm Island, was worried about the painting's future, asking Narelle to find a good home for it. Further correspondence took place and then, in January 2016, Tiny, Narelle, and two of Tiny's daughters came to Canberra for a formal handover. It was the first time they had been in the building, and the Senate Chamber, where Neville had worked for twelve years, and it was an emotional occasion.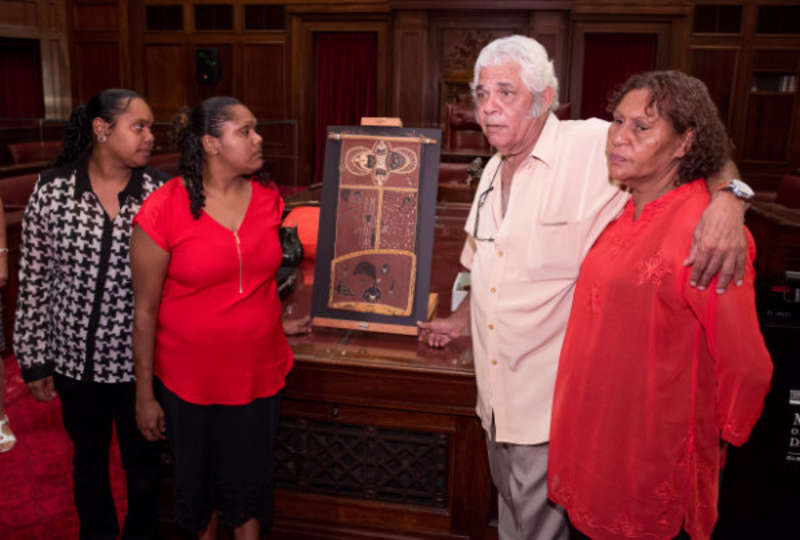 Exhibition
One of the first actions museum staff undertook with the bark painting was a condition assessment. It had survived the years well, but the heat and humidity of Palm Island had caused a small amount of deterioration of the bark, and insects had made it their home. The colours, though, remained vibrant and bright. The work was stabilised, the insect casings removed, it was dusted, and the paint was fade tested to give us an idea of how long we could display the painting for before exposure to light damaged the work. In late 2016 planning began for a new exhibition, focusing on five key museum collections, and the collectors who had donated them. The Bonner collection, part of the museum's collections since 2006, was an obvious choice for display, with the newly-acquired bark painting a valuable addition. Carefully prepared and mounted, the bark painting was brought upstairs from storage to be hung in its new position, where for the next 18 months or so visitors can enjoy the artistry and the story embodied in this remarkable work of art.