From the blog
Royal visits — now and then
Her Majesty Queen Elizabeth II will be in Australia from 19-28 October. While her visit will culminate in the Commonwealth Heads of Government Meeting to be held in Perth, the itinerary for the Queen and her husband Prince Phillip is a busy one, and in just eight days they will spend time and attend official functions in Canberra, Brisbane and Melbourne.
While this is the 16th tour of Her Majesty to Australia, the very first was of 58 days, and included visits to a host of regional centres throughout the country. The first also had significance for the still young capital, Canberra, and its Provisional Parliament House.
Queen Elizabeth's first visit to Australia was in 1954, the year after her coronation. The visit was part of a tour by the young monarch to twelve Commonwealth countries and British territories. It had been 20 years since any royal visit to Australia had taken place, and was the first to Australia by a reigning monarch. Understandably, it has been reported to be the most popular of all royal visits.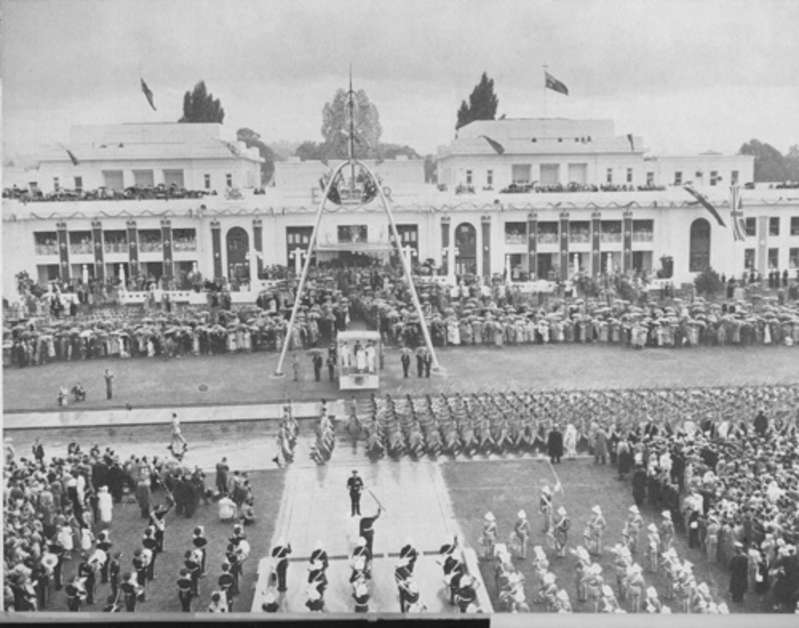 In Canberra the Queen had official duties to perform in our parliament. On 15 February she opened the 20th parliament. For such an important event, Provisional Parliament House went all out to impress - the image of the Queen reviewing troops shows a spectacular arch, and banners, bunting and flags that adorned the front of the building.
The Research Library collection includes a number of books, items of ephemera, images and oral histories relating to royal visits to Australia.