Return to events
Building History Tour
BOOK NOW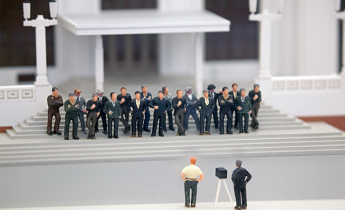 Bookings essential, places are limited to 15
20 min tour
Free ticketed tours depart King's Hall daily at 10.00, 12.00, and 3.00 Monday to Friday and 10.00 and 3.00 on weekends. 
Want a bird's eye view of wonderful Old Parliament House and its fascinating occupants over time ?
Need an intro to the rich history of this national heritage-listed building before you explore further on your own ?
One of our knowledgeable guides will meet you in King's Hall and take you to our Models Room to show you the changes which have occurred over the decades and offer stories about people who have walked these halls.
Our pictorial Building History book can also be purchased and picked up as you embark on your tour.
Book your tickets below and before you visit, read this important information about how we're working together to keep everyone safe. 
Public Health Emergency – COVID-19 Pandemic
A Public Health Emergency has been declared in the ACT for the response to the COVID-19 pandemic. From 6 March 2021 the ACT Government has made it mandatory for all visitors to the Museum of Australian Democracy (MoAD) aged 16 years and older to check in, or to allow MoAD staff to check them in, on the Check in CBR app. You may face a fine of $1,000 if you fail to comply with the check in requirement. Information about the ACT Government's COVID-19 response is available upon the ACT Government COVID-19 Website.