Return to events
33 Revolutions: Be part of something big!
Event
1, 2, 8, 9 March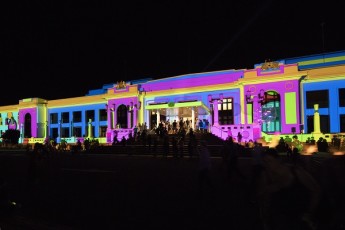 MoAD yet again offers a unique Enlighten experience with 33 Revolutions – a collaborative artwork inspired by the transformative power of music. 
Join us to build an inspiring creation from recycled vinyl records, hanging from a height above King's Hall at Old Parliament House.
Watch the insta-worthy artwork grow, as this breath-taking installation comes to life with the spirit of revolution.
Be part of something big, connecting thousands of voices from different generations, cultures and identities as you are entertained by a rocking soundtrack including Joan Baez, Kendrick Lamar, Paul Kelly, John Williamson and everything in between.
When: 1st, 2nd, 8th & 9th March 2019
Where: MoAD (Museum of Australian Democracy)
Time: 6:30pm – 11pm