Return to events
Hive Mind
28, 29 February & 6, 7 March 2020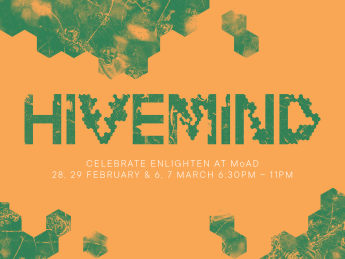 MoAD's renowned Enlighten experience is back again with Hive Mind – a collaborative artwork that comes to life with visitor participation.
Join in the fun at Old Parliament House as King's Hall transforms into a buzzing beehive. Share your best life lesson or words of advice on honeycomb-shaped cells that fit like pieces of a puzzle into the giant hive walls.
Over four nights during Enlighten, join a community, contributing to a collective knowledge bank just like a functioning real-life working hive.
Be part of something big and help create an enormous, immersive artwork with responses from thousands of people from different generations, cultures and identities. 
There's even more to explore at MoAD after dark. All our exhibitions and galleries are open until 11pm.
Museum Hours
9am-11pm
Hive Mind
Free
28 and 29 February, 6 and 7 March,
6.30pm – 11pm
MoAD
Old Parliament House