Return to exhibitions
Ajit Ninan: cartoonist to the world's largest democracy
Past exhibition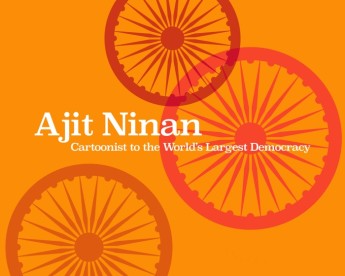 For Ajit Ninan cartooning runs in the blood, he is the nephew of cartoonist Abu Abraham and had his first cartoon published in the late 1960s when he was still at school. One of India's best known cartoonists for the Centrestage series in India Today magazine and Ninan's World in the Times of India, Ajit Ninan has been part of many Indians' daily lives.
Recognised for his insightful commentary on day-to-day life, political figures and world affairs, this exhibition presents a snapshot of his work over the last ten years. Ranging from cutting caricatures ("I always start with the nose. Then decide where to hang the rest of the face..."), the popular four-panel Politricks transformations, or his close to the bone political cartoons, Ajit Ninan's work concisely captures the complexity of life in one of our largest neighbours.
Beyond politics, Ajit Ninan regularly addresses social issues and day-to-day activities in keenly observed and humorous ways that speak to some of the universal pressures of managing the family budget and raising children in an increasingly globalised society.
All cartoons courtesy Ajit Ninan and Times of India.
Take a look at the photo album from the exhibition launch.