Return to exhibitions
Australia's Public Service For the Government of the Day
Now open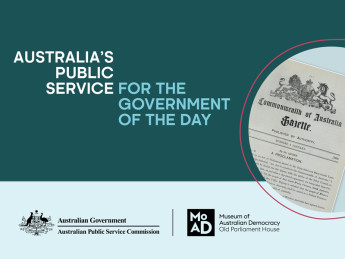 Every person in the country is connected through the work of the Australia Public Service (APS). The federal government's public servants have helped shape Australia. Their activity, both visible and invisible, is as essential to the functioning of our democracy as the Parliament, judiciary or head of state.
Providing apolitical, 'frank and fearless' advice to government has been one of the hallmarks of the public service.  This exhibition explores how the APS has informed, supported and implemented the decisions of the governments of the day.
Objects pulled from the basements of government departments create an eclectic snapshot of the APS.
Twin themes of health and wealth frame the stories - from the coins in our pockets to the public health measures that keep us well.  
Exhibition highlights
Access
Plan your visit with mobility, sensory, lighting and tactile information about our exhibitions and heritage spaces within Old Parliament House.