Return to exhibitions
Behind the Lines 2020: The year in political cartoons
OPEN NOW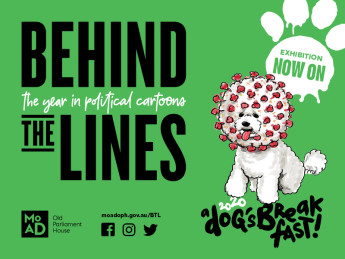 Admission is free but bookings are essential. Book your General Museum Pass.
2020's disruption and turmoil got more close and personal than most of us ever imagined.
From the bushfire summer to the global pandemic, the nation's political cartoonists had plenty to work with as they mapped the nation's politics and our reaction, illuminating our shock and fears.   
Hawaiian shirts and burnt trees gave way to masks and spiky balls.
With most of us still wondering 'what the pup' just happened, the brand-new iteration of Behind the Lines: The year in political cartoons will help us make sense of the dog's breakfast that was 2020.
Behind the Lines 2020 presents the best political cartoons from this dog of a year, including digital cartoons for the first time.
When have we needed our cartoonists so much? Don't miss it.
This exhibition will run from November 2020 for approximately 12 months. 
Check out the 2020 cartoons on our Behind the Lines website.
Cathy Wilcox: MoAD's 2020 Political Cartoonist of the Year
Exhibition merchandise
Behind the Lines Exhibition merchandise available from the MoAD Shop.