Return to exhibitions
Behind the Lines 2022: the year in political cartoons
Open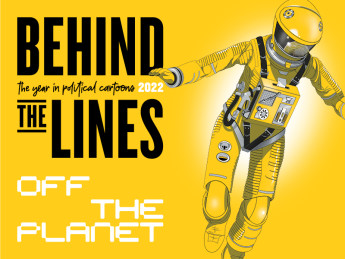 Climb aboard the spaceship to Behind the Lines 2022 our perennially popular exhibition celebrating the art of political cartooning.  
This year, MoAD takes a giant leap into outer space with the theme Off the Planet, reflecting on a year where lockdowns ended, borders opened, and we burst from our living rooms, eager to discover what more was out there.  
Our cartoonists have peered into their telescopes and brought into focus another eventful year. A federal election and the rise of the teal Independents, Russia's invasion of Ukraine, skyrocketing interest rates and a cost-of-living crisis: all are represented on the walls of Behind the Lines. 
This year's exhibition features more emerging artists working in non-traditional publications than ever before, including Adele K. Thomas, Pat Hudson and Gorkie.  
Several cartooning heavyweights will return in 2022, with cartoons from David Rowe, Cathy Wilcox, Danny Eastwood and First Dog on the Moon.  
This year's In Focus section looks back across 20 years of Australian asylum seeker policies, from the Tampa affair in 2001 through to Operation Sovereign Borders. Guest curated by Kurdish-Iranian author, activist and journalist Behrouz Boochani, In Focus is a challenging retrospective on some of Australia's most controversial government policies.  
Visitors can climb aboard the Democracy One spaceship and take their pick of cartooning co-pilots, with Fiona Katauskas, Kamsani bin Salleh and James Hillier (Nordacious) along for the ride. Or, try a game of Guess Who with a political twist.     
So, prepare for take-off as MoAD invites you to boldly go where no museum has gone before.  
Behind the Lines 2022 runs for 12 months from December 1.  
You can also view the full exhibition online. 
Access
Plan your visit with mobility, sensory, lighting and tactile information about our exhibitions and heritage spaces within Old Parliament House.