Return to exhibitions
Designing Democracy
Permanent exhibition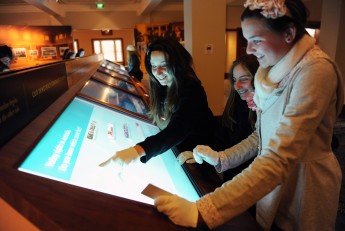 Students use RFID interactive technology in Designing Democracy, 2010. Photographer Marina Neil, Canberra Times.
Australia's road to democracy has been challenging, innovative and sometimes controversial. Designing Democracy explores democracy's ancient roots and the international events that influenced Australia's own brand of democracy. It also introduces some of the brave and passionate Australians who shaped the nation and changed the world.
Discover the ideas and ideals that inspired radicals and revolutionaries to create modern Australia's core foundations. See fascinating and often surprising objects Australians have used to fight for their rights and freedoms. How did Australia emerge from the upheaval and inequality of colonisation to a nation confident in the global arena? And what challenges lie ahead?