Return to exhibitions
Living Democracy: the power of the people
Past exhibition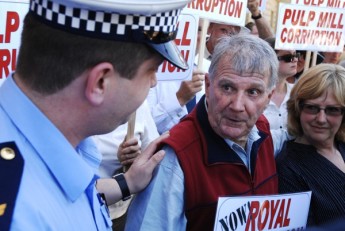 Peter Cundall is arrested outside Parliament House during anti-pulp mill protests in Hobart, Tasmania, 19 November 2009. Paul Carter, AAP.
A democracy is continually shaped and challenged by people. People striving to be included, heard and represented equally. People contributing, advocating and generating change.
The Living Democracy exhibition shares the stories of a diverse range of people whose lives are intrinsically linked with Australia's democracy. People who have protested for change, petitioned government, represented others, secured voting equality for all Australians, become leaders of change in their communities and had their voice heard through music and art.
Explore how our democracy continues to be uniquely shaped by each of us participating in our communities, shaping our laws and governments and challenging ourselves and each other.