Return to exhibitions
Menzies by John Howard
Past exhibition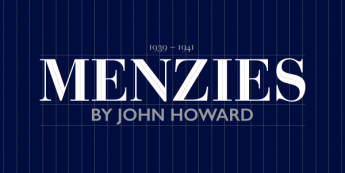 Robert Menzies (1894–1978) became prime minister on 26 April 1939 when he replaced Earle Page, who was caretaker prime minister following the death of Joseph Lyons. He resigned as prime minister on 29 August 1941 after losing the support of many in his party. He went on to serve a record-breaking 16-year term as prime minister from 1949–1966.
It is now 75 years since Menzies was first elected Australia's prime minister. To mark the occasion the Museum of Australian Democracy invited former prime minister and admirer of Menzies, John Howard, to guest curate this exhibition.
Howard believes that, 'in the long sweep of history', Menzies was Australia's greatest prime minister. In this exhibition Howard shares his reflections on and insights into Menzies' first term, and the experiences that shaped Australia's longest serving prime minister.
View the Menzies by John Howard website