All learning programs
Our Voices, Our Choices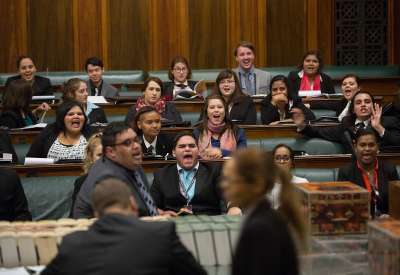 Experience the ways people are heard in a democracy, both through an interactive exhibition trail and taking on the role of politicians in an historic debate re-enactment.
Our historic debates challenge students through the use of modified Hansard speeches. Students will either learn the arguments for and against the introduction of conscription during the Vietnam War, OR about a constitutional issue - state versus federal rights and how each approached the topic of the damming of the Franklin River in 1983.
This program is eligible for the Parliamentary and Civics Education Rebate (PACER). For your school to receive the rebate you must apply at least three weeks before your visit.
Make a booking enquiry
---
*Australian Curriculum V8.3 – Curriculum Learning Areas