All learning programs
Who's the Boss?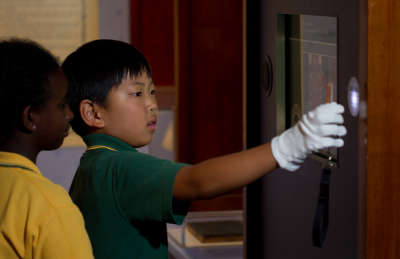 Learn about the development and practice of democracy in Australia by exploring the results of past democratic decisions in an interactive exhibition trail and discover parliamentary procedure through role play in our historic chambers.
Our role plays interpret history through important people and objects. Topics explored include the history and role of the Speaker's Chair in the House of Representatives; changes to immigration policy by meeting Ministers of Immigration; important senators who have been 'firsts' in the Senate; and changes about the role of the Governor-General since Federation.  
This program is eligible for the Parliamentary and Civics Education Rebate (PACER). For your school to receive the rebate you must apply at least three weeks before your visit. Details on how to apply can be found at the above link.
This program uses the RFID trail. Watch the RFID Trail program in action.
---
Make a booking enquiry
---
*Australian Curriculum V8.3 – Curriculum Learning Areas