All digital excursions
MoAD Junior Investigators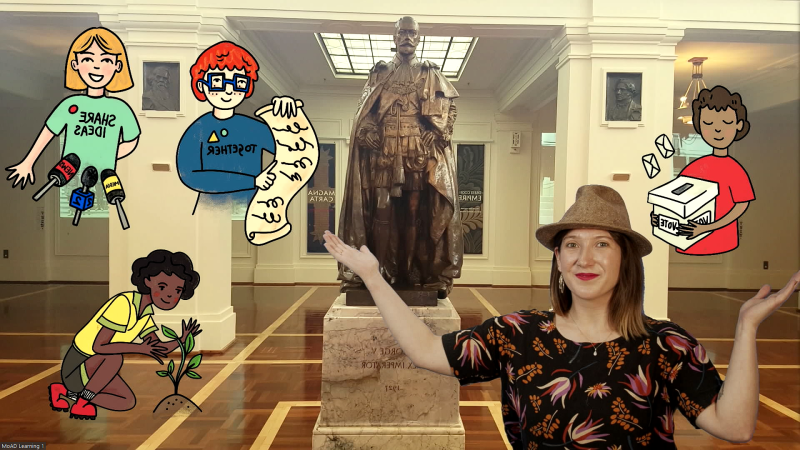 Join the MoAD Learning team for MoAD Junior Investigators - a highly engaging and conversational program designed for young people in years P – 3.
 In this program students will use their curiosity to discover special places in Old Parliament House, develop civics and citizenship understanding, and find connections between our democratic systems and their lives.  Participants will collaboratively interrogate and discuss past and present objects, people, places, and events. Together we will reflect on change and investigate how students can participate in their communities and take action.
This program is suitable for students in classroom, hospital school, distance education, and home learning settings.
Pre and post activities for classroom use
What technology is needed?
Connecting for a program while at school?
All you need is access to Zoom using the app or on a web browser on ONE device which is connected to an interactive whiteboard/similar display set up in your classroom.   We will then send the organizing teacher a meeting number.
Connecting with students while they are at home?
Students use the browser version of the Zoom application on their chosen device and we will send the teacher contact a meeting number to send to their students – so their class can connect with us for the booked facilitated program with their teacher.
Cost 
This program is free.
Terms and Conditions [PDF, 72KB]
Program times 
To book your next digital excursion with MoAD, follow the link below through to the Book Canberra Excursions website!

Pre-recorded option
Do you have a student who can't join us for the live program with their classmates?  Do you need a flexible delivery option? Complete this form to obtain a pre-recorded version of the excursion. 
---
*Australian Curriculum V8.3 – Curriculum Learning Areas
HASS
Foundation - History
How the stories of families and the past can be communicated, for example, through photographs, artefacts, books, oral histories, digital media and museums (ACHASSK013)
Year 1 - History
Differences and similarities between students' daily lives and life during their parents' and grandparents' childhoods (ACHASSK030)
Year 2 – History
The history of a significant person, building, site and/or part of the natural environment in the local community and what it reveals about the past (ACHASSK044) The importance today of a historical site of cultural or spiritual significance in the local area, and why it should be preserved (ACHASSK045)