The art of activism
Written by

Nina Enever

Date

Thu, 30 Jun 2022
These artists use embroidery to make change.
'Nothing about us without us'
'Because of her, we can'
As you approach our new Changemakers exhibition, you'll be greeted by 16 hand-embroidered banners, each emblazoned with a rallying cry. Created by artists Tal Fitzpatrick, Sofia Fitzpatrick, Kait James, Amy Claire Mills and Guy Ritani, these banners bring to life the slogans used by social movements over generations. Each artist has juxtaposed traditional techniques with modern art styles, reminding us that change is an ongoing conversation.  
Here, Tal, Sofia, Kait, Amy and Guy share their insights on a selection of the banners featured in Changemakers.
Warning: Aboriginal and Torres Strait Islander readers are advised that this article contains names and images of deceased people.
Amy Claire Mills on Nothing About Us Without Us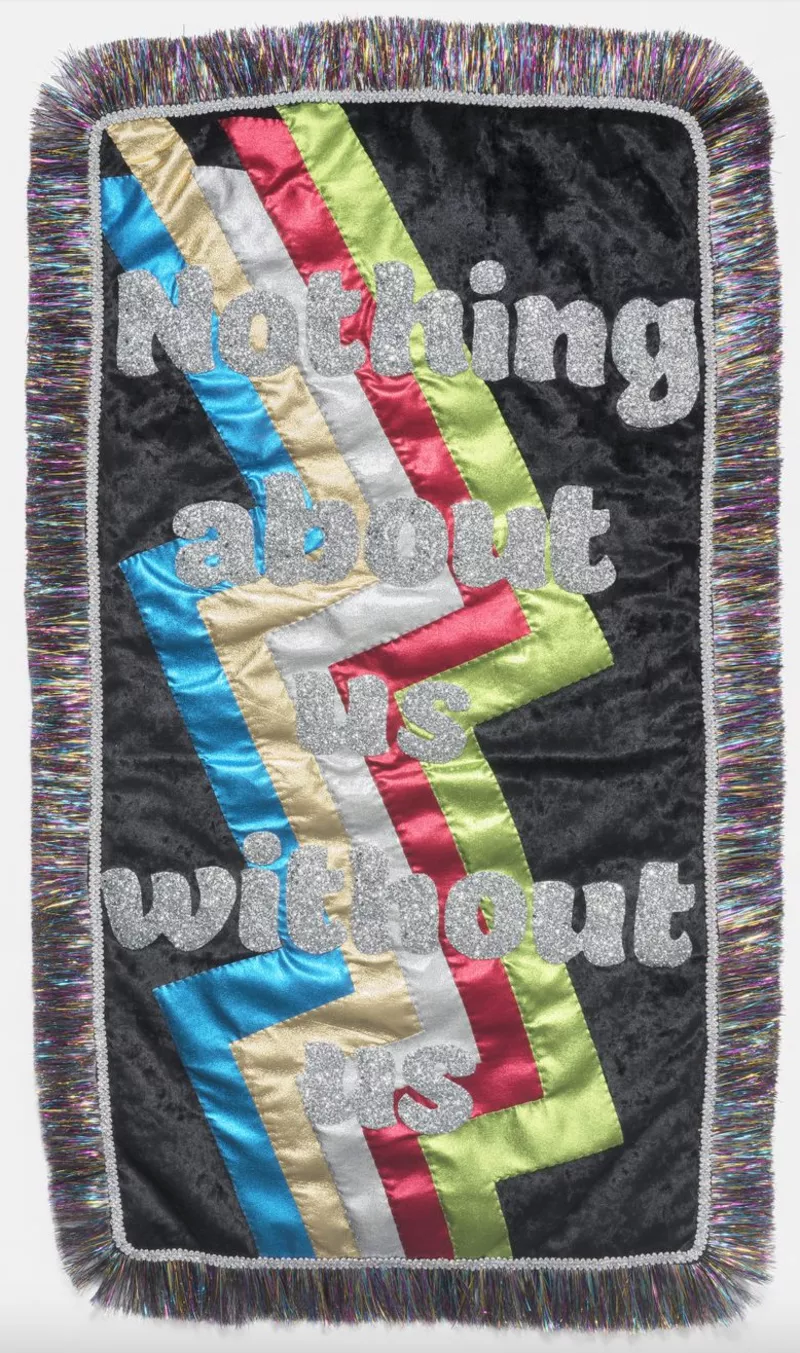 This banner, created by Sydney-based artist Amy Claire Mills, celebrates the work of disability rights activists and intersectional feminists who fight for equity and equality for all. As Amy says: 
'Chronically ill and disabled people go unseen and are underrepresented in all sectors across society. But I see radical change coming, built upon the work of the changemakers who came before me. Inspired by the disability pride flag, originally designed by disabled woman Ann Magill, this banner represents the rallying cry of the disabled community. That you can't tell our stories without our involvement, or consent. My disability isn't your prop or Oscar!!!!'
See more from Amy at @amy_claire_mills. 
Tal Fitzpatrick on A Woman's Place is in the House and Senate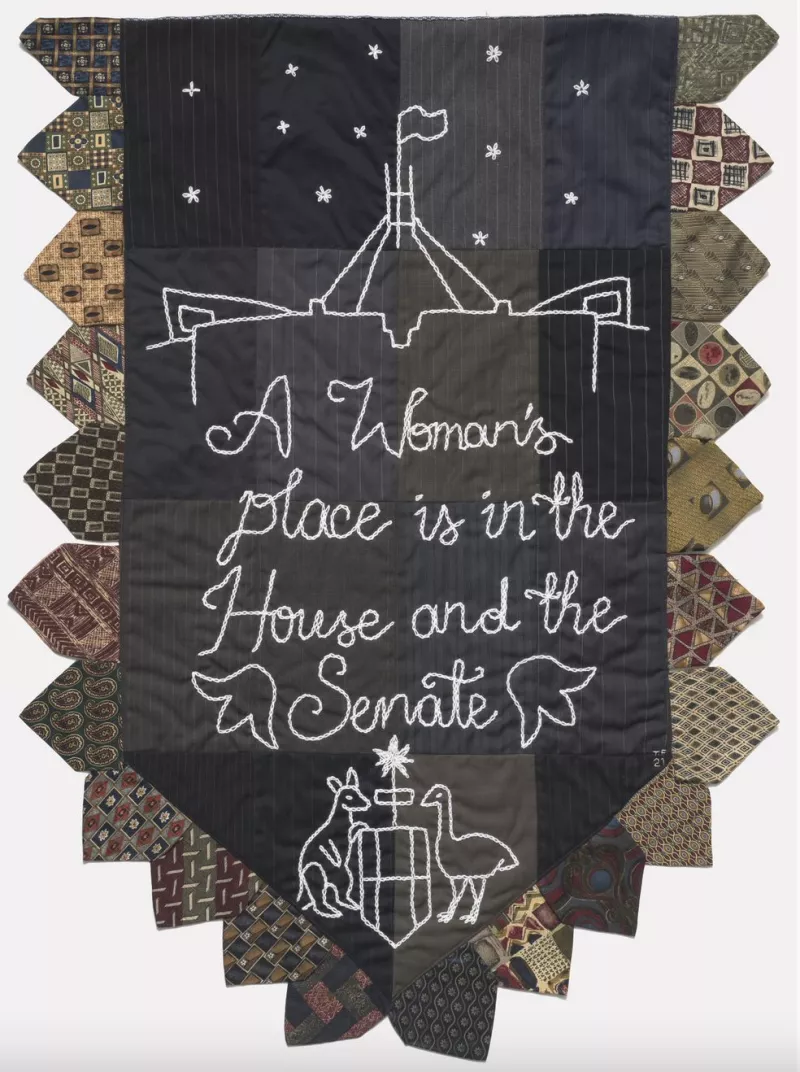 'Women continue to be underrepresented in positions of leadership within parliament as well as in the private and public sectors. Made using wool suit swatches and men's ties, this banner proclaims in hand-embroidered cursive that women have a key role to play in all levels of leadership and governance, including in parliament.' - Tal Fitzpatrick
Guy Ritani on The Seas are Rising and So are We, created with Tal Fitzpatrick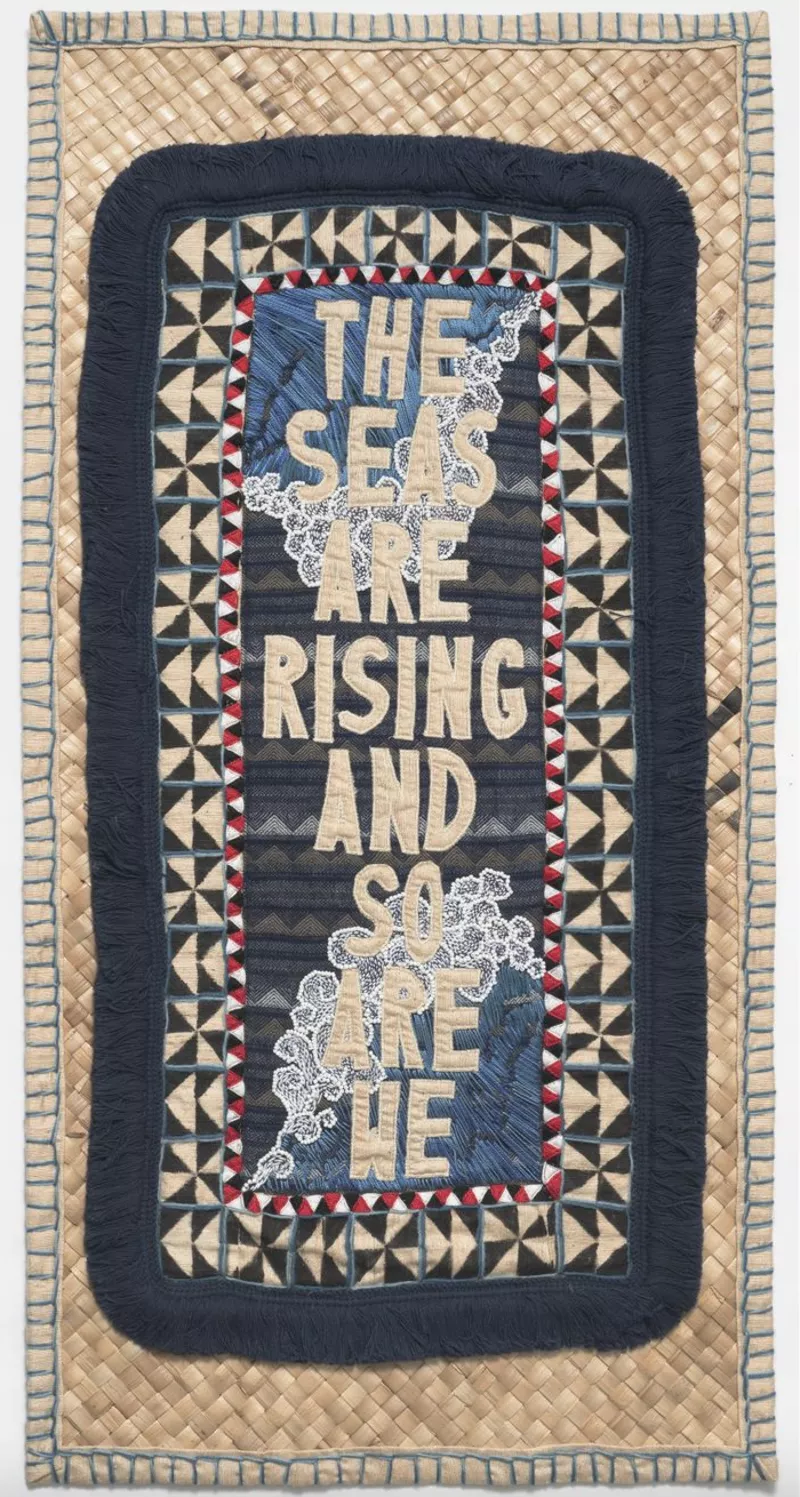 'This labour of love stitches an experience of the meticulous care, trust and aroha within the Pacific Climate Warrior community. Upon a repaired woven grass mat sits a message of strength and regeneration. What has been broken can, with care and time, be made whole again.' - Guy Ritani
See more from Guy at @taniwha.ritani 
Tal Fitzpatrick on Progress Pride Flag/Love Wins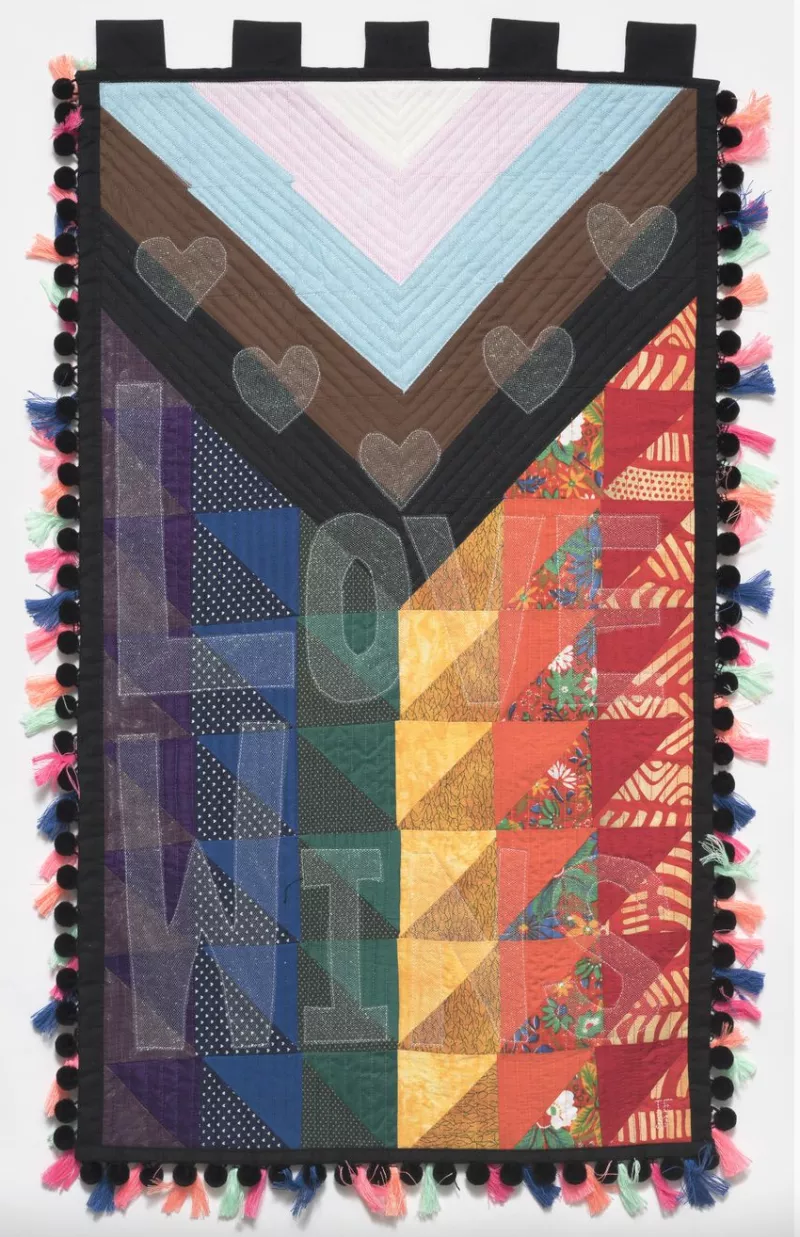 'This banner celebrates that on November 15th 2017 Australia voted 'yes' in a divisive postal survey on marriage equality that resulted in the Marriage Act of 1961 being updated to allow for marriage equality. 
 
Today, it is clear that the majority of Australians strongly support equality for the LGBTQI+ community. However, their rights continue to be undermined by concerted attacks from the likes of Christian lobby groups. With recent examples of this including bill proposals such as the so called 'religious discrimination bill' and the Private Members bill introduced specifically to exclude trans and gender diverse kids and adults from sports.  
 
The continued efforts to restrict the legal rights of the LGBTQI+ community and limit their freedom to express their sexuality and gender diversity highlight our collective responsibility to stay vigilant and to be vocal and active in our support for the queer community.' - Tal Fitzpatrick
Kait James on Because of Her We Can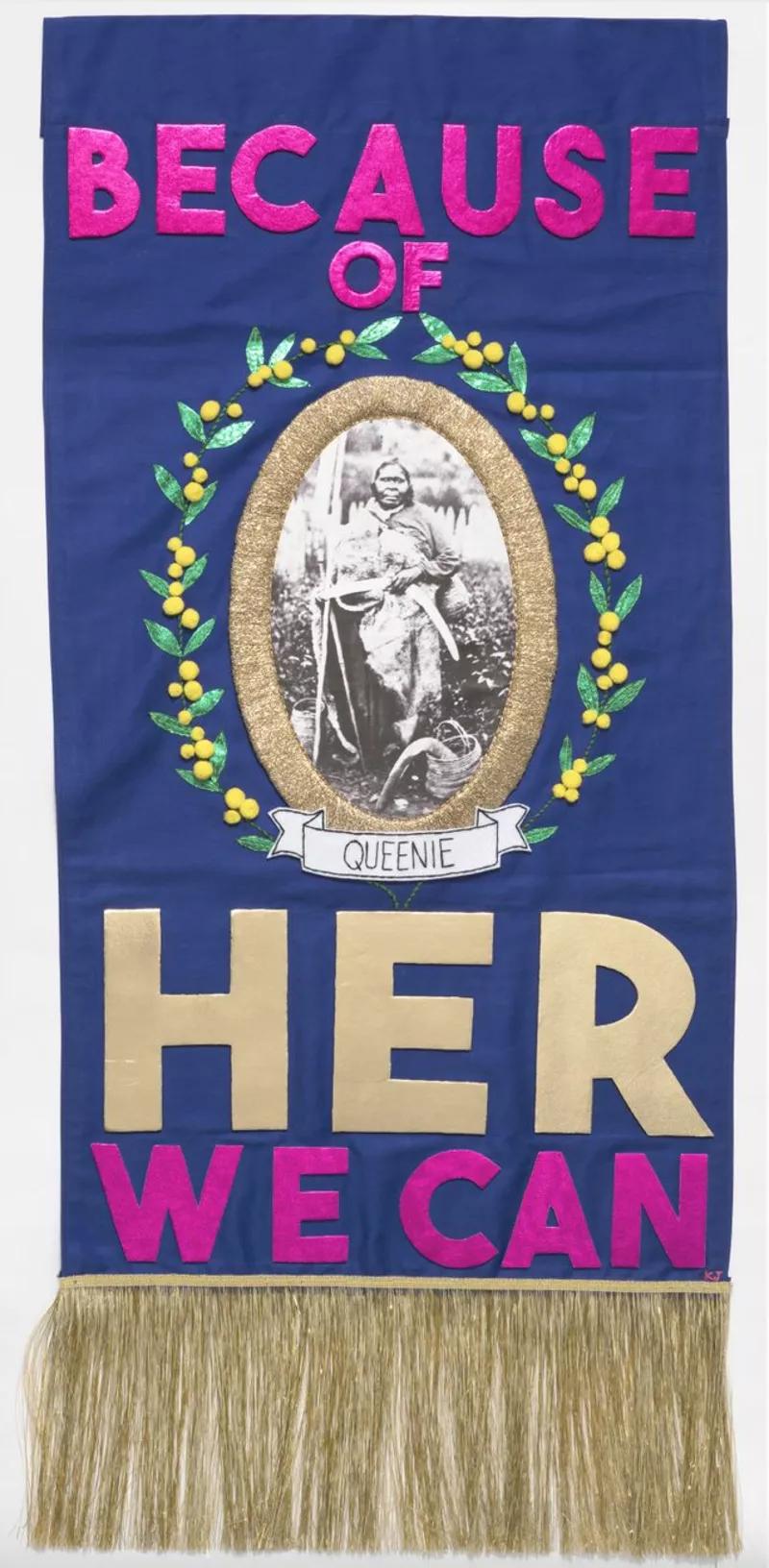 'Queen Mary of Ballarat, also known as Catobeen, was my great-great-great grandmother, born on Wadawurrung country in 1833. She was removed from her country, saw her people die from disease and massacres, was forbidden to be herself and speak her language. Because of her strength, endurance, sacrifices, and determination to survive, WE CAN.' - Kait James
See more of Kait's work at @kait_james. 
Sofia Fitzpatrick on I Won't be Quiet So You Can Be Comfortable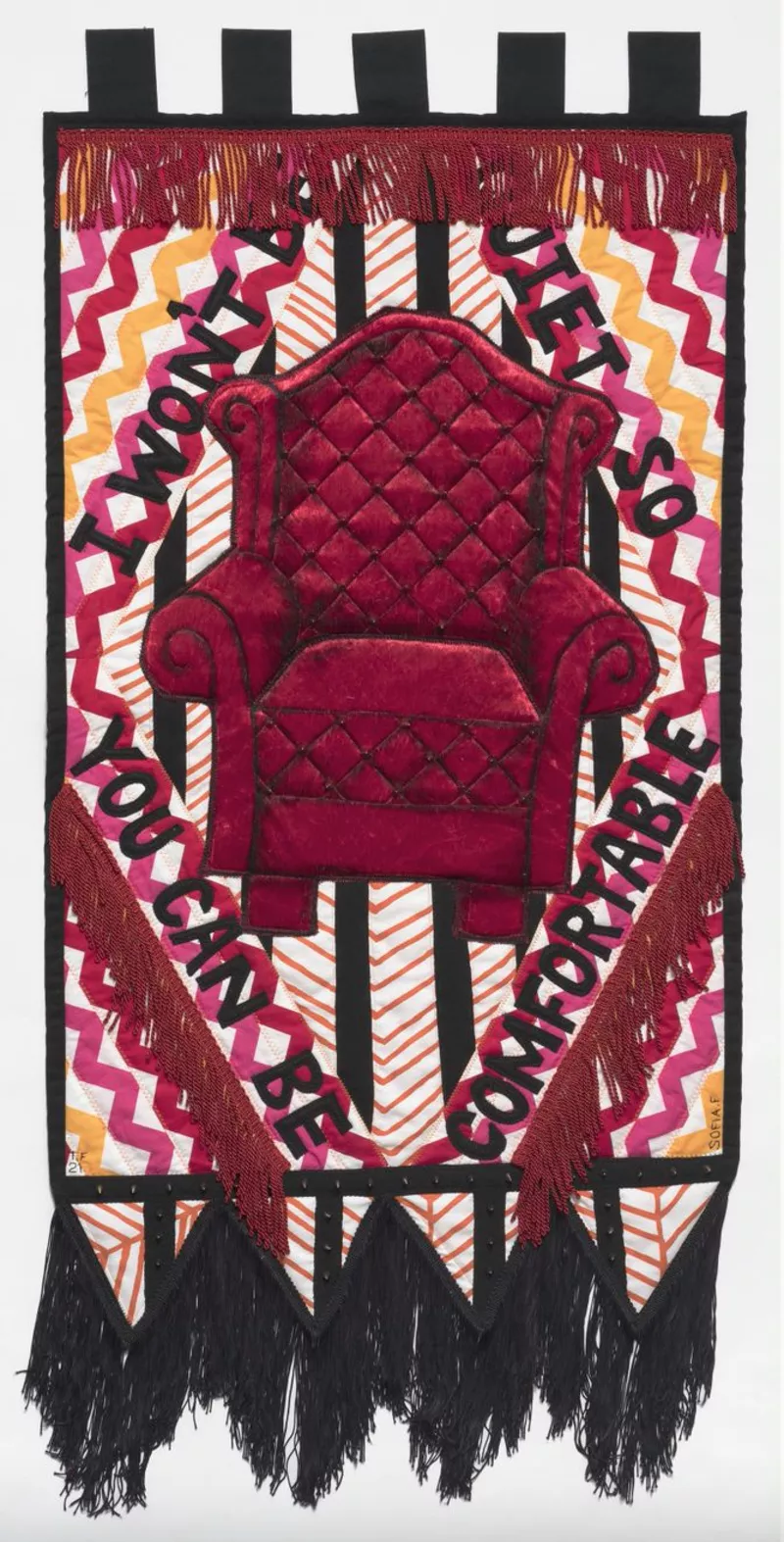 'This banner was created in collaboration with my sister, Sydney based artist Sofia Fitzpatrick. This slogan highlights that to question the status quo, to reject the power structures and hierarchies of the patriarchy and white supremacy, is to make people (including ourselves) uncomfortable. 
For too long women, alongside other minority groups, have been expected to stay quiet and be compliant; To keep their thoughts to themselves and be polite or risk being perceived as "angry" "radical" "hysterical" etc.  
This banner calls us to be brave, to speak out and to be unapologetic in our efforts to call out violence, injustice and inequality. 
What's hard to see from a distance and in photos is that this banner, which features a plush velvet couch and an excess of tassels, is that it's actually covered in 3cm steel spikes!' - Sofia Fitzpatrick 
You can find Sofia at @toffyfitz. 
Tal Fitzpatrick on Serving the Country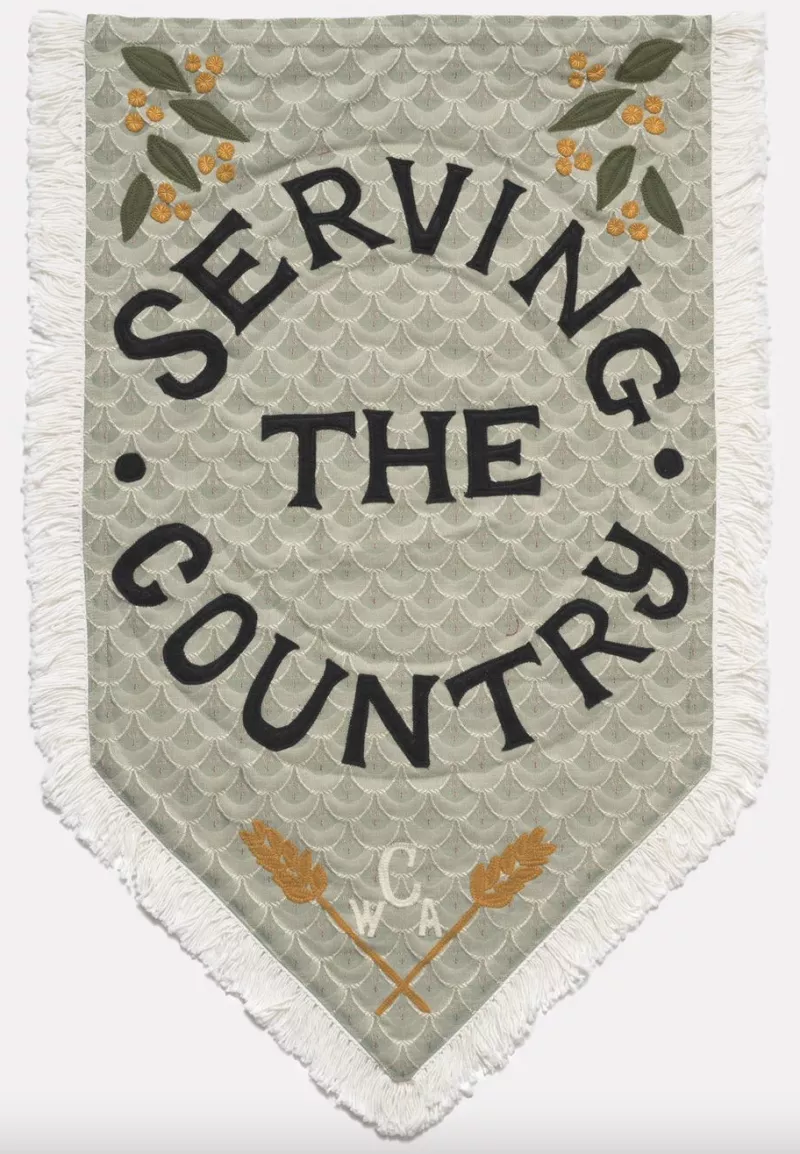 'This banner celebrates the contributions of the countless women who have shaped Australia's 
democracy through their participation in the Country Women's Association (CWA). 
 
Founded in 1922, the CWA is the largest regional and rural advocacy group in Australia. It comprises seven independent State and Territory Associations, who are passionate advocates for country women and their families, working tirelessly to ensure robust representation to all levels of government on issues that impact their communities. 
 
The organisation is self-funded, nonpartisan and nonsectarian and their advocacy work seeks to influence decisions that impact women, children and families, as well as advocating for greater access to services and support for women and children across the nation. 
 
As part of my research process for making this banner I had the privilege of speaking with Audrey Hardman OAM, a past NSW State President who served in the 1980s. I was blown away by how much this organisation has quietly achieved over the years as well as the work they are doing now to adapt to a changing world and to become a more inclusive.' - Tal Fitzpatrick   
View more of Tal's art at @talfitzpatrick 
 Experience these stunning works of art in person. Visit Changemakers, a celebration of the activists, icons and allies behind 120 years of women's rights in Australia. Open now.