From the blog
Curly conversations: haircuts at Old Parliament House
Have you ever tried a haircut at home?  Or do you prefer to leave it to the professionals?
What about a haircut at work? This is an option if you work long hours at our Federal Parliament.
When Canberra became the home of Federal Parliament in 1927 it was missing many of the services that we now take for granted. There was little public transport, amenities, or entertainment. Provisional Parliament House Architect John Smith Murdoch was conscious of this and fitted out the building with dining rooms, games rooms, and spaces for indoor and outdoor leisure and relaxation. These spaces, and the presence of a barber shop and later a hairdressing salon, are all part of the story of how Parliament functioned not only as a workplace, but in many ways as a home away from home.
At first, the only haircuts required in Parliament House were men's haircuts. Cecil Bainbrigge worked as a barber in the building for more than a decade, and eventually managed the Parliamentary Barber Shop. He cut hair for all sorts of parliamentarians and staffers over the years, including Prime Minister Ben Chifley and Speaker of the House of Representatives Archie Cameron. However Cecil's time as the parliamentary barber came to an end in 1951 after a run-in with Cameron over a poster of the racehorse Phar Lap that was hanging in the barber shop.
Cecil's dismissal caught the attention of the newspapers and the Hairdressers Union, who committed to support him if he desired, even going so far as to 'blacklist' the Parliamentary Barber Shop if needed. Some headlines even stated that Cecil Bainbrigge would run against Archie Cameron in the next election, although this was something Bainbrigge only ever joked about.
Over the years, an increasing number of women began working at Parliament House, not only as Senators and Members, but also in many other capacities. This called for the introduction of a hairdresser who could do both men and women's haircuts. In 1978, Elizabeth 'Lizzie' Scott was hired as the in-house hairdresser at Parliament House, where she worked until the move to Australian Parliament House in 1988, and continued as hairdresser there until 2008. In a 2002 interview from our oral history collection, Lizzie recalled that the position was initially attractive to her as a parent because of the casual arrangement and hours. The room Lizzie used was rent-free and fairly basic until it was refurbished in the early 1980s. Lizzie was paid directly for the cuts she did, and she did not take clients from outside Parliament.
Lizzie's interview sheds light on the intimacy of working at Parliament House. Lizzie remembered her clients fondly, particularly Joan Child, the first woman to be Speaker of the House of Representatives, who Lizzie recalls as being 'wonderful'. When Child was elected as the first female Speaker, the papers posed many questions about her ability to do the job. Was she up to the tough job of keeping order in the chamber? Would she wear the traditional Speaker's garb of black robe and white wig? As Harriet Veitch wrote in 2013, 'yes she did keep order […], but no, she wouldn't wear the wig – it would squash her hairdo'. Perhaps the haircuts Lizzie gave Joan Child were just too good to cover with a wig!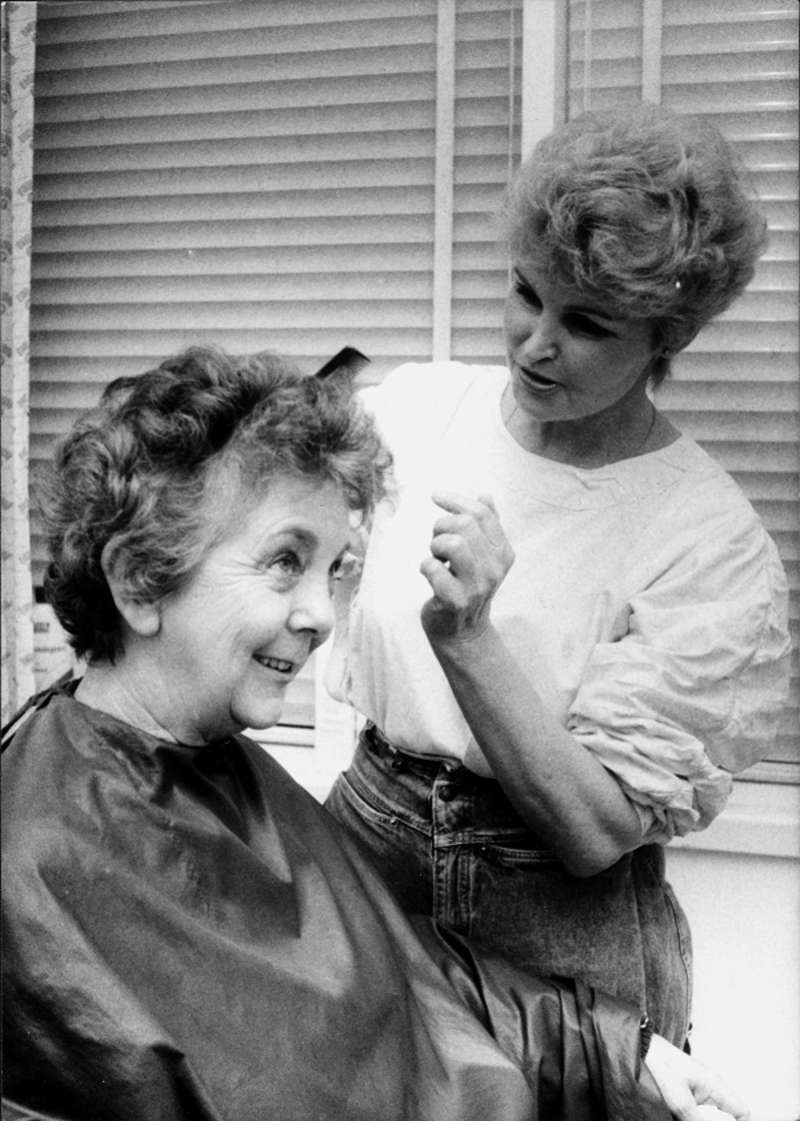 Of course, things did not always run smoothly. Lizzie mentions an occasion when John Button, a Labor Senator, and Jim Killen, a Liberal Member of the House of Representatives, turned up for their haircuts at the same time. As they were from opposing parties, Lizzie was concerned that she might have a fight on her hands. Instead, she recalls, they were 'very civil' to one another, Button gave up the barber's chair to Killen as he had some meetings coming up soon. While Lizzie cut Killen's hair, Button sat in the corner and the two men talked 'very happily about lots of things.' Lizzie herself rarely talked politics, and thought this was one of the reasons she lasted so long as the parliamentary hairdresser. She once joked that if she had been one to get upset about what went on in Question Time, there 'would have been a few mohawks walking around' Parliament House.
The chair Lizzie used to sit her clients in still has evidence of perming solution and hair spray on its leather, and traces of talcum powder in the grooves of the footrest. Her stories, and these physical remnants, add colour to the stories of the lives that were lived inside Parliament House. A great haircut can make a world of difference, and if you are a politician about to front the media, a poor haircut is the last thing you need! If only we all had at-work (or at home!) hairdressers like Cecil Bainbrigge and Lizzie Scott.