Design and Construction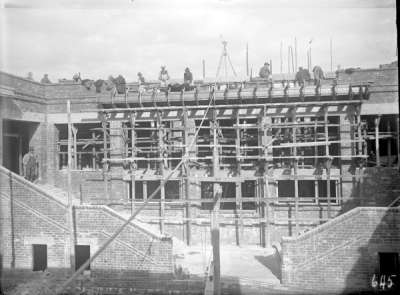 The Old Parliament House building was designed by Chief Commonwealth Government architect John Smith Murdoch. It is the last and best known of his government buildings. His designs can be found all over Australia from the Perth GPO to the South Brisbane Telephone Exchange. He designed East and West Blocks in Canberra to complement the building. The foundations of West Block were raised so the roofs of all three buildings were at the same height.
Murdoch's design for the building was thought to be very modern for its time. Square and circular motifs were features of the architecture and furniture throughout the building. These appear on balcony rails, floor design, light fittings and the gold decoration on the glass doors. The building is filled with natural light from windows, skylights and light wells. Gardens and courtyards offer places for recreation or quiet thought. Covered walkways surround and link parts of the building.
The three storey building is planned around the two legislative or law-making Chambers—the House of Representatives and the Senate. The legislative section at the front includes party meeting rooms and offices as well as the Chambers. The recreational areas, located at the back of the building, comprise the dining room and bar. Press offices occupy most of the upper floor, while offices, kitchens, plant rooms and storage are located on the lower floor.
Construction started in 1923 and workers and building materials came from all parts of Australia. Timber from nearly every State was used inside to reflect the federal nature of the building. Bricks came from nearby Yarralumla brickworks, transported to the site by light rail. The cost of the building and the furnishings was more than £600,000—almost three times the original estimate.
There were many changes and additions over the years as the number of members, senators, staff and journalists increased. Windows were blocked off and verandahs glassed in. Extensions changed the shape of the building, in particular those to the sides and front of the building from the 1940s to the 1970s.
Further reading