Speaker of the House of Representatives' suite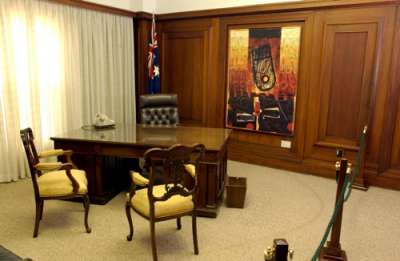 The Speaker of the House of Representatives suite of rooms includes offices (for the Speaker and his or her staff), a dining room, bar, sitting room and bathroom. The Speaker's most important duty was to preside over and maintain control of debate in the House of Representatives Chamber. The Speaker kept order by interpreting and enforcing the rules of parliamentary procedure and practice. Although usually elected from the governing party of the day, the Speaker should be fair and impartial. Outside the Chamber the Speaker managed the Provisional Parliament House together with the President of the Senate; their large corner suites reflect the status of the two presiding officers. The Speaker and the President of the Senate both receive delegations visiting Australia from other nations, and other distinguished visitors to the House of Representatives or Senate. Hospitality for these events is one aspect of the responsibilities of the Speaker's office. The suite includes rooms and furniture to support these duties.
The Speaker's suite 'is, for practical purposes, a self-contained flat with office, sitting room with wall-bed, bathroom, and so on, where he can live for lengthy periods if he likes, having his meals prepared in the Parliamentary dining room… In Canberra the Speaker rarely uses his Parliamentary suite for living purposes, usually residing at a nearby hotel, working or entertaining at the House' (Denning, 1946, pg 88 – 89). The first Speaker to occupy this suite was Sir Littleton Groom (1926 to 1929). In 1986 Joan Child became the first female Speaker (1986 to 1989) and was also the last Speaker at the Provisional Parliament House.
Although this suite didn't have extensive renovations like the Prime Minister's and the President of the Senate's suites, it did go through various minor changes. When it was first built the suite consisted of the Speaker's office, an office for secretarial staff, a bathroom, a sitting room (with a fold-out wall-bed), a dressing room, store room, lobby and messenger's room. In 1942, a large part of the secretary's office was converted into a corridor to facilitate access to the newly built two storey southeast wing. By 1965 a small bar had been built (built between 1943-50) next to the sitting room, and the storeroom had been removed, enlarging the dressing room. Many of the substantial changes to this suite happened under Sir Billy Snedden (Speaker from 1976 to 1983), with the aim of upgrading it to same level as the President of the Senate's suite. In February, 1977, the reception area was changed, a dining room was built at the expense of the dressing room, and a display cabinet was built in the Speaker's office for the mace (which had since 1951 been stored in the case it had arrived in from Britain).
REFERENCE:
'The Speaker of the House of Representatives' Department of the House of Representatives, retrieved from http://www.aph.gov.au/house/members/speaker_booklet.pdf