Return to exhibitions
Writs to Referendums: Celebrating Australia's unique electoral system
Now open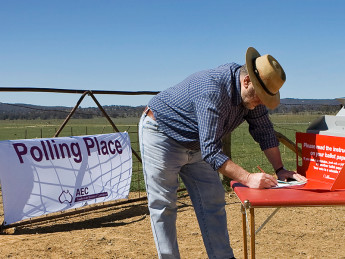 Free, fair and impartial elections are the cornerstone of Australia's democracy.
This exhibition, by the Australian Electoral Commission (AEC), takes you behind the scenes of a federal election. It offers a glimpse into what it takes to deliver Australia's largest and most complex peacetime logistical exercise.
Every Australian citizen contributes to the strength of our democracy. This exhibition documents the experiences of the many Australians involved in elections and referendums. This includes voters, temporary election workers, party workers, scrutineers and AEC staff.
Around the world, delivering democratic elections is becoming increasingly complex. Australia is no different. The AEC must deliver elections and referendums with the highest standards of electoral integrity. This is to ensure that all citizens maintain trust and confidence in electoral results and the AEC.
Writs to Referendums: Celebrating Australia's unique electoral system is an exhibition by the Australian Electoral Commission.
Access
Plan your visit with mobility, sensory, lighting and tactile information about our exhibitions and heritage spaces within Old Parliament House.