Competitions and challenges
National History Challenge
The National History Challenge invites students to be historians – researching and interpreting the past. MoAD is pleased to sponsor the special category Have a voice in our democracy. In 2018, students from years F–12 are invited to research and create an entry that considers a turning point in democracy.
Research an individual or a community; an idea or an event; a discovery or an invention that has changed the course of democracy. Entries are not limited to Australian figures, events or documents. They can include local, national and global political leaders, activists, political parties, or governments who have influenced the development of democracy.
To learn more about MoAD's special category, visit our National History Challenge website.

Closing date for 2018: Friday 31 August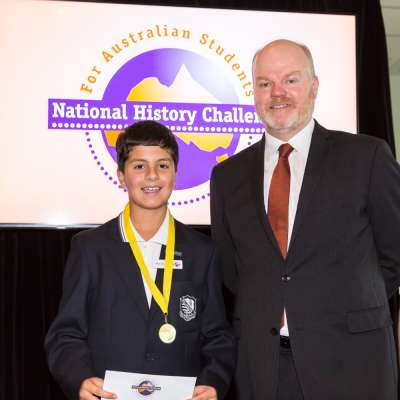 Congratulations to all students who participated in the 2017 Challenge. MoAD hosted the ACT National History Challenge presentation on 26 October in the historic House of Representatives Chamber. The national presentation was held on 27 November at Australian Parliament House.
The MoAD Special Category winner Akira Naumovski is pictured (right) with MoAD Deputy Director Andrew Harper.
Watch the 2017 winning entry for MoAD's special category created by Akira Naumovski.
---
What Matters?
What Matters? is an annual writing competition run by the Whitlam Institute. This is a chance to express what matters to you in society today.
Entry is open to students in years 5–12 in NSW, the ACT and Tasmania. There are no restrictions on topic or theme; entries are restricted to a 400–600 word opinion piece on any topic of choice.
How to enter
Write an original 400–600 word opinion piece on what matters to you and why

Submit your entry online through the

Whitlam Institute's website
Closing date for 2018: Friday 11 May
Student Prizes
All entrants will receive a certificate of participation
Cash prizes are awarded in 4 categories: Years 5/6, 7/8, 9/10 and 11/12
An overall competition winner,

announced at the awards ceremony, will receive an iPad and a trophy. The overall winner will also be invited to spend a day at MoAD meeting a curator, getting behind the scenes and contributing their voice to one of our learning programs

See the Whitlam Institute for the full list of prizes, terms and conditions
Congratulations to all students who participated in the 2017 competition. The awards ceremony was held on 4 September 2017 at the Whitlam Institute in Sydney. For the first time in the history of the competition, there were two overall winners.
Anhaar Kareem (pictured right) visited MoAD on 3 November. Read about Anhaar's day at MoAD and her winning entry on the MoAD blog.
Matti Schwarz (picture right) visited MoAD on 19 March. Visit our Twitter page for highlights from Matti's MoAD takeover.
The 2018 What Matters? competition is proudly supported by the Museum of Australian Democracy, the NSW Writers' Centre, The Writing Workshop and ReachOut.com and WestWords.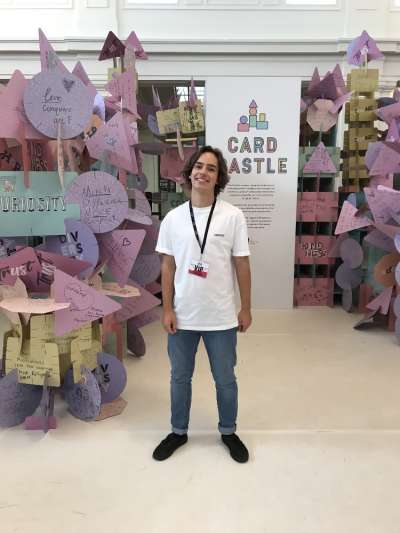 ---
How Powerful Are You?
MoAD Learning would like to know 'What democracy means to you'.  Inspire others by sharing your thoughts with US in a creative way.  The best submissions will have the opportunity to be rotated through and displayed in the corridors here at MoAD.  These artworks will also be uploaded to our Learning website.  Download the flyer for further details.