All learning programs
Our Voices, Our Choices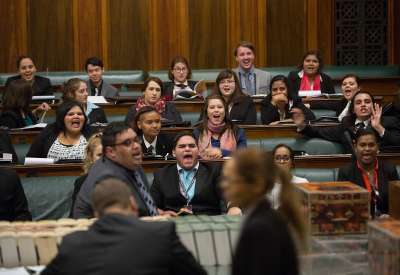 Examine how people participate in Australia's democracy through contemporary exhibitions and role-play.
During Our Voices, Our Choices, students engage in deeper learning as they explore the importance of civic participation in a functioning democracy. Students will collaborate and discuss contemporary issues in our permanent exhibition spaces through our interactive trail program. 
In either the heritage House of Representatives or Senate chambers, students will:
use modified Hansard speeches  to take on the role of historic Australian politicians and re-enact historic debates, on National Service or the Tasmanian Franklin River debate.
actively participate in parliamentary process in authentic surroundings.
add their thoughts and ideas to the debate.
This program is eligible for the Parliamentary and Civics Education Rebate (PACER). For your school to receive the rebate you must apply at least three weeks before your visit.
Make a booking enquiry
---
*Australian Curriculum V 9.0 – Curriculum Learning Areas