The Senate Chamber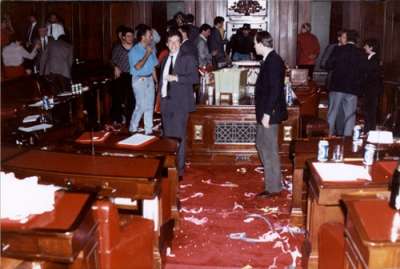 The Senate was established to give an equal say to each original Australian State, with the smaller States having the same number of senators as the larger ones. This was a crucial part of the Federation agreement. In time, senators' loyalty to their party became more important than State loyalties. Since 1949, proportional representation has made it easier for minor parties to win seats in the Senate than in the House of Representatives. Debate in the Senate is controlled by the President of the Senate who, like the Speaker of the House, sits in a prominent position in the Chamber.
While the Government is formed by the party which holds a majority in the House of Representatives, it may not necessarily have a majority in the Senate. The Senate has almost equal power to the House of Representatives, with the important exception that it cannot introduce or amend money bills. These bills are the means by which the Government obtains funds (often referred to as supply) for its administration. However the Senate can reject or refuse to pass such bills. In 1975, the Senate demonstrated this power when it refused to pass the supply bills, triggering the constitutional crisis that led to the dismissal of the Whitlam Government.
The Senate Chamber was the place where parliaments were opened—usually after a federal election. On these occasions, members of the House of Representatives would be summoned to walk across King's Hall to join the senators to hear the Governor-General or the Monarch declare the new Parliament in session. Queen Elizabeth II performed this function in 1954, 1974 and 1977.
Although some senators may be ministers, the Prime Minister must be a member of the House of Representatives. Only once in the history of the Federal Parliament has the Prime Minister come from the Senate. This happened in 1968 when Senator John Gorton was elected leader of the Liberal Party following the death by drowning of Prime Minister Harold Holt. Gorton then resigned his Senate seat and won Holt's vacant House of Representatives' seat of Higgins.