Return to exhibitions
PlayUP
Open daily, 9am - 4:30pm, free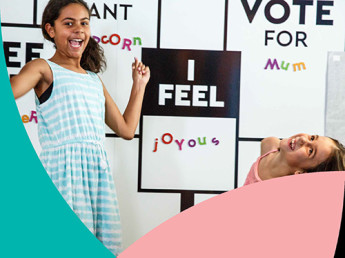 Craft will run from 10:30am to 12:30pm.
Stand up, make up, think up and step up at PlayUP. Our imaginative family space has hands-on activities to educate, excite and challenge young minds.
In this exhibition kids can explore the United Nations Convention on the Rights of a Child in a playful way. Adults can even join in the fun too! From listening pods and a roleplay Kindness Café to a fuzzy felt wall and craft activities, PlayUP has a range of exciting and immersive experiences that flip the traditional idea of museums completely on its head.
This creative exhibition space celebrates the role of children in our community and provides a welcoming environment for families to engage in the rights and responsibilities of children through imagination, discovery, roleplay and fun.
You're invited to join our closed Facebook group, the PlayUP Community  where you can chat with friends and the PlayUP team in a safe and welcoming online environment.
Check out On Air PlayUP where we bring PlayUP craft to you online! Check out our free videos and family guides.
Access
Plan your visit with mobility, sensory, lighting and tactile information about our exhibitions and heritage spaces within Old Parliament House.