Return to exhibitions
PlayUP: The Right to Have an Opinion and Be Heard
Temporarily closed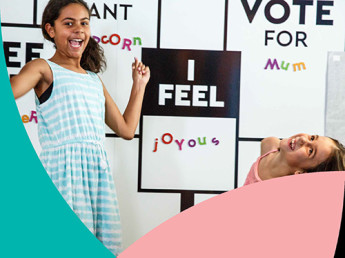 PlayUP is temporarily closed
PlayUP is closed from 18th March 2020 until further notice.
The health and safety of our visitors, staff and community are important to us and we are monitoring the COVID-19 situation regularly. As a precaution to help mitigate the risk of the spread of the virus we have made the decision to temporarily close PlayUP.
We are exploring some exciting digital solutions to bring aspects PlayUP into your home. Please check our website and follow us on social media to keep up to date with any announcements.
Stand up, make up, think up and step up at the brand new PlayUP at the Museum of Australian Democracy.
After an exciting transformation, our imaginative family space has all-new hands-on activities to educate, excite and challenge young minds.
Discover PlayUP – The Right to Have an Opinion and Be Heard, where kids can explore the United Nations Convention on the Rights of a Child in a playful way. Adults can even join in the fun too! From listening pods and a roleplay Kindness Café to a fuzzy felt wall and craft activities, PlayUP has a range of exciting and immersive experiences that flip the traditional idea of museums completely on its head.
This creative exhibition space celebrates the role of children in our community and provides a welcoming environment for families to engage in the rights and responsibilities of children through imagination, discovery, roleplay and fun.
PlayUP Storytime! 
Starts Monday 16 March 2020 
Join us for stories, songs, jokes and rhymes in PlayUP every day as we explore children's rights through play-based learning.
Storytime sessions are free and run for approximately 20 minutes. There will be two sessions each day:
10:30am & 11:30am from Monday 16 March 2020.
This is a drop-in program, facilitated by our PlayUP staff with no requirement for booking.