Return to exhibitions
PlayUP: The Right to Have an Opinion and Be Heard
9 am – 5 pm daily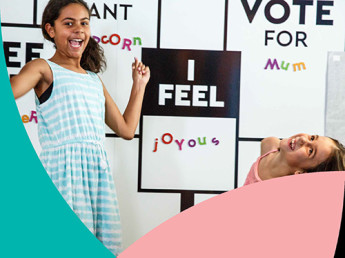 Stand up, make up, think up and step up at the brand new PlayUP at the Museum of Australian Democracy.
After an exciting transformation, our imaginative family space has all-new hands-on activities to educate, excite and challenge young minds.
Discover PlayUP – The Right to Have an Opinion and Be Heard, where kids can explore the United Nations Convention on the Rights of a Child in a playful way. Adults can even join in the fun too! From listening pods and a roleplay Kindness Café to a fuzzy felt wall and craft activities, PlayUP has a range of exciting and immersive experiences that flip the traditional idea of museums completely on its head.
This creative exhibition space celebrates the role of children in our community and provides a welcoming environment for families to engage in the rights and responsibilities of children through imagination, discovery, roleplay and fun.
Don't miss the free facilitated craft activity, every day in PlayUP from 10.30 am – 12.30 pm.  
This month in PlayUP
Monday 9 December – Sunday 15 December: World Human Rights Day

Human Rights Day is a special day for us to reflect on and celebrate the rights we have and use every day as Australians and acknowledging those rights carries with it the responsibility of promoting them for all people.
Monday 16 December – Sunday 22 December: International Migrants Day

International Migrants day focuses on the positive contributions of migrants on both host communities and communities of origin, and remembers those migrants who have lost their lives during their migration journeys.