All schools resources
Student Voice and Leadership
Incorporating authentic student voice into the classroom, school and greater community has never been more important. Democracy means people power, which includes young people, their thoughts and ideas are important to the conversation. 

How can we support students to share their ideas and become active, informed and engaged citizens?  

We are committed to supporting teachers to build authentic student voice and agency in different contexts. The following resources are designed to ignite conversation and begin a dialogue with students about their contributions.    
---
Student Voice Podcast Series
These bite sized podcast episodes have been created to spark conversation with students about different elements of student voice. Recorded in collaboration with the Stage 3 Empowered Students Leadership Team at Bonython Primary School. 
 Podcast 1 Student Voice – What is it?
 Podcast 2 Student Voice in school: Learning and Applying
 Podcast 3 Student Voice in the community
---
School Leadership and Student Voice Podcast
 Hear from Marc Warwick and Marissa Owens, members of the Bonython Leadership team as they discuss their journey to empowering student voice and agency across the school and into the local community.
Podcast 4 Student Voice -School Leadership
Podcast 5 Reflections on a year of the Empowered Student Leaders Initiative
---
Student Voice and Hexagon Thinking Activity
Here is a quick, thought provoking activity to support students' exploration of their voice in the classroom, school or local community. Download it here!
---
Positive Affirmations
These vibrant affirmation cards will support rich discussions as students consider how they can build their growth mindset individually and as a collective group.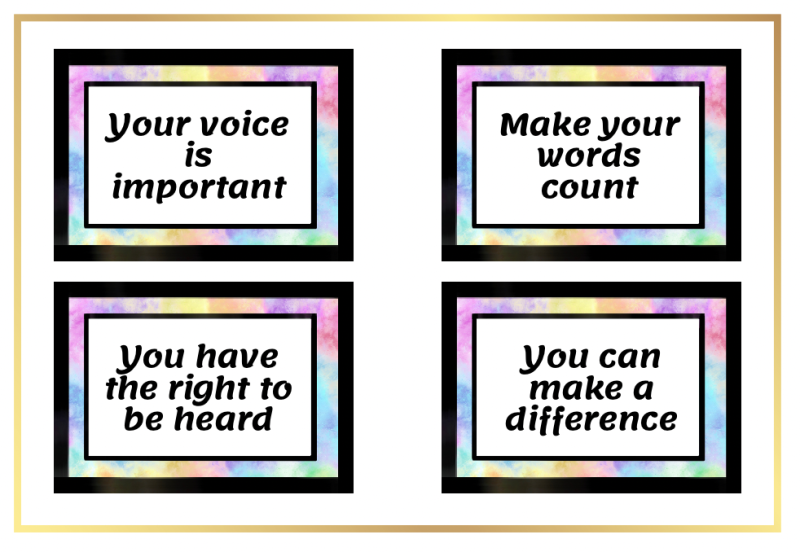 ---
Leadership Sketchnote
Explore leadership with students using this scaffolded sketchnote template, including focus questions and plenty of space for students to draw, record key words and phrases.
---
Random Acts of Leadership
Looking for ways to support your students to develop their leadership skills? This collection of activities can be completed as a sequence or individually depending on students' needs. Download it here (273 KB)

---
*Australian Curriculum V8.3 – Curriculum Learning Areas
HASS
Civics and Citizenship
English