Zine lounge
Stop the press
A message to all our ziners and self-publishing fans. The Zine lounge will be closed from Monday 6 March 2017.
Inside scoop – news just in, unconfirmed sources have indicated plans to create a dedicated space for young people later in the year.
Stay tuned as the story unfolds…
Come and visit our new-look Zine Lounge. Read or make zines and listen to some records in a cool and creative environment.
Make it yourself
A zine (pronounced 'zeen') is a handmade, self-published magazine, often photocopied in black and white, and with a limited print run.
This article at The Conversation by Kirsty Leishman explains their origins in more detail.
The range of subjects is as diverse as the people who make them—they can be about absolutely anything! Print is powerful.
From 1930s sci-fi to 70s punk, zines have been a way for fans to document their experiences, as well as providing an alternative voice to those held by the mainstream.
Zine culture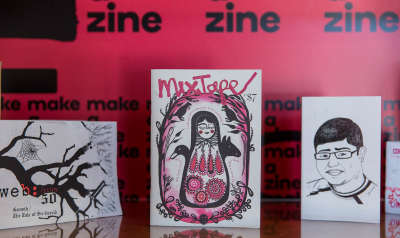 Communicate best by writing? Write it out. Don't like stringing words together but awesome with a pencil? Sketch it. Use whatever medium works best for you. Publish stories, comics, poetry, fiction, critiques, reviews, rants, collages.
Make a couple of copies just for friends, or a few hundred to be sold through distributors or at zine fairs. Within the zine community, zines are their own currency. Swap them for other zines! Trade with mix CDs or long letters or even your favourite chocolate bar.
Document your story. Write your own narrative. Who else will tell your story in your own words? Create your own media. You have a voice, use it!
Onsite school program
The Zine lounge experience. Students discover the nature and purpose of zines before creating, either individually or in groups, a zine of their own. Read more and bookings here.