The Cabinet Room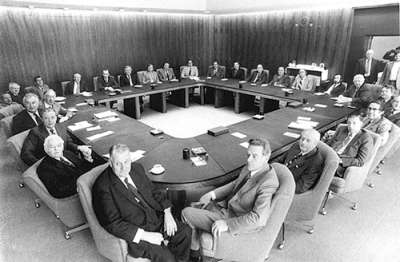 Cabinet is the group of senior ministers led by the Prime Minister who meet to make most of the major decisions of government. Cabinet meetings are confidential and secret. Even new governments are not allowed to see the records of a previous government's meetings, as records are not released for at least thirty years. In the Cabinet Room, members of the Government can argue and disagree, but when decisions are debated openly in Parliament, the Government presents a united voice.
In 1973, the Cabinet Room was enlarged, taking in the former verandah. The original small Cabinet table with seating for 10 to 12 ministers was replaced. The new larger table accommodated all 27 ministers of Gough Whitlam's Cabinet (1972–75). Thick doors were installed in an attempt to make the Cabinet Room totally soundproof.
Small tables in the corners were used by Cabinet notetakers—senior public servants who recorded Cabinet discussions and decisions. The notetakers began their work in 1940 during the first Menzies Government. Records of Cabinet decisions before that time were generally poor or undocumented. White buttons on the edge of the table were used to call an attendant, usually to take a message from a minister to someone in their office or department. A wall safe was used to store Cabinet submissions and other highly confidential papers.
In the early years, there were persistent rumours about eavesdropping through the ceiling. The culprits were assumed to be journalists, whose offices were just above, although this was never proved. The Press was much more likely to hear what was happening directly from members of Cabinet. When the Cabinet Room was extended, the temporary Press offices on the roof above were removed. In later years, the room was also checked regularly for electronic listening devices.