Return to exhibitions
Truth, Power and a Free Press
OPEN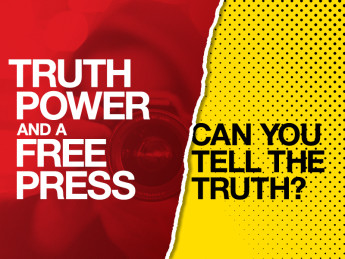 Our timely, permanent exhibition explores stories from those on the front line for the battle for truth.
You will see objects from Australia's media history brought together for the first time and hear stories direct from some of Australia's leading journalists including Joanne McCarthy, Hedley Thomas, Laura Murphy-Oates, Hamish Macdonald, Adele Ferguson and more.
You will leave moved, excited and empowered to navigate filter bubbles, fake news and the importance of trusted media sources in a healthy democracy.
Find out if you can tell the truth.
Through an immersive, 7 foot tall audio visual display, 12 of Australia's leading journalists tell us why they do the work they do, the courage it takes and the responsibility they feel for reporting fairly and fearlessly.
You will see a technology wall showcasing media tech from 1925 to 2019, Peter Greste's letters smuggled to his family from an Egyptian prison, death threats and intimidation faced by investigative reporter Kate McClymont and much more.
Access
Plan your visit with mobility, sensory, lighting and tactile information about our exhibitions and heritage spaces within Old Parliament House.  
With thanks to our partners