King's Hall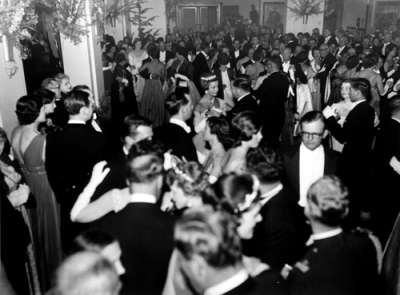 King's Hall was the hub of the building. Open to the public from the earliest days, this space was far more than just a formal function room or foyer. It came to symbolise the openness of parliamentary democracy and representative government in Australia. Even in the 1970s, when new concerns about security led to the introduction of a separate entrance for the public under the front stairs, King's Hall remained open to the public. The openness of this old building now seems remarkable, particularly in comparison with the Australian Parliament House.
King's Hall was the place where great public ceremonies were held, politicians and journalists mingled and prime ministers brushed shoulders with ordinary citizens. Prime Minister John Curtin lay in state here after his death in office in 1945. During the 1963 Royal Tour, Prime Minister Menzies complimented Queen Elizabeth with the words of an Elizabethan poet Barnabe Googe, 'I did but see her passing by, and yet I love her 'til I die'.
King's Hall was well placed for journalists. They could observe most of the human traffic in the building from this central position, as members crossed between the two sides of the building, went into the library or down to the Members' Dining Room. 'If you waited in King's Hall, you would meet anybody you wanted to see,' said one veteran journalist. 'It was an ant's nest within a rabbit warren.' King's Hall was buzzing in November 1975 when the Senate's refusal to pass supply bills led to the dismissal of the Whitlam Government.
In 1931, a journalist for the Melbourne Herald, Joe Alexander, was expelled from the House of Representatives Chamber and its surrounds for refusing to reveal the source of a leaked document. He was allowed, however, to keep working on the Senate side of the building. For the five months that the ban remained in place, Alexander was often seen wandering along an imaginary line running down the middle of King's Hall, waving at members of the House of Representatives with whom he wanted to speak.