From the blog
PlayUP at Home
Our PlayUP at home activity calendar has 14 days of fun ideas. Print this out, stick it to the fridge, or bookmark this page.   
Join our PlayUP Community Facebook group to chat about craft or have your questions answered by the PlayUP team. 
You can find more videos and activities on our On Air PlayUP page.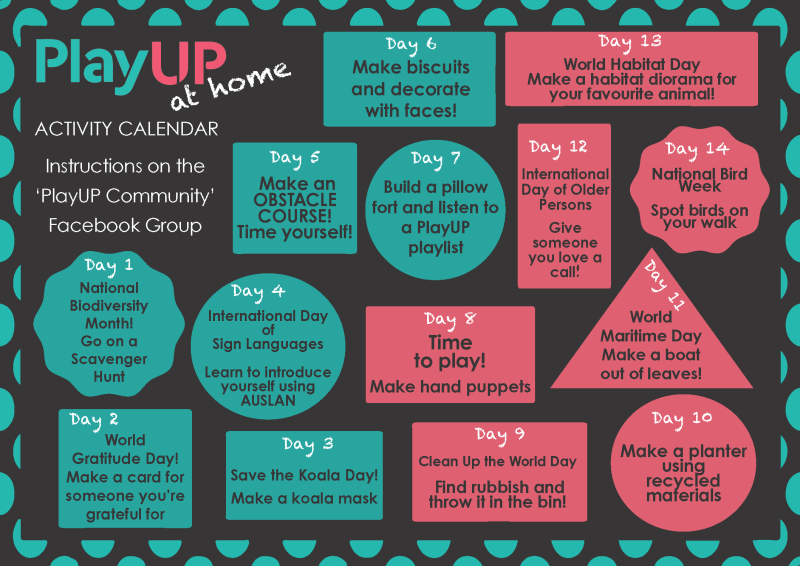 Day 1 - National Biodiversity Month - go on a scavenger hunt
Day 2 - World Gratitude Day - make a card
Day 3 - Save the Koala Day - make a koala mask
Day 4 - International Day of Sign Languages - learn to fingerspell your name
Day 5 - Children's Right to Play and Rest - make an obstacle course
Day 6 - Children's Right to Play and Rest - bake biscuits
Day 7 - Children's Right to Play and Rest - build a pillow fort
Day 8 - Children's Right to Play and Rest - make hand puppets
Day 9 - Clean Up the World Day - pick up rubbish
Day 10 - Food Waste Awareness - make a planter
Day 11 - World Maritime Day - make a boat 
Day 12 - International Day of Older Persons - give someone you love a call
Day 13 - World Habitat Day - make an animal diorama