From the blog
Prepping for a takeover: Girls Takeover Parliament at MoAD
Girls Takeover Parliament is a Jasiri Australia program designed to inspire young female-identifying people to enter politics. Participants attend special training workshops to learn a range of leadership skills, including how to research and write motions. On 14 October 2019, each participant will be paired with a 'mentor' politician in Parliament House for the day. 
In September 2019, we welcomed the young leaders of Girls Takeover Parliament for some 'democracy 101' workshops to prep them for their trip up the hill on 14 October.  Here, Kate, Lauren, Rebecca and Adeline reflect on what they learnt at MoAD…

---
Kate: 'Put a group of young women together in a room, ask them for honest thoughts and ideas about the world, and you will create magic'
My first weekend as part of the 2019 Girls Takeover Parliament cohort was enriching and empowering. Put a group of young women together in a room, ask them for honest thoughts and ideas about the world, and you will create magic. Bonus points if that room is in the Museum of Australian Democracy at Old Parliament House!
A highlight from the weekend was the Women in Leadership Panel. We were lucky enough to hear from Gai Brodtmann (former Labor politician), Caroline le Couteur (Greens MLA), Ingrid Southworth (Deputy British High Commissioner), Hayley McQuire (Founder of National Indigenous Youth Coalition) and Camille Schloeffel  (Founder of the STOP Campaign). Our inspiring speakers shared their personal leadership stories as well as some incredible advice on activism and being a powerful woman in leadership. If I had to condense their message into a single concept, it would be: stand up, speak out and be heard!
 The idea of taking up space and owning it was a reoccurring theme during discussions as the speakers encouraged us to conquer self-doubt and imposter syndrome. It was fantastic to see a range of leadership styles on the panel as this highlighted the diversity of what leadership can look like for young women.
I really valued the diversity within the room as we spoke about values, leadership and privilege. It was inspiring to hear from the other women on my table who brought lived experience in reflections on the struggles of being a woman from across Australia and across the globe.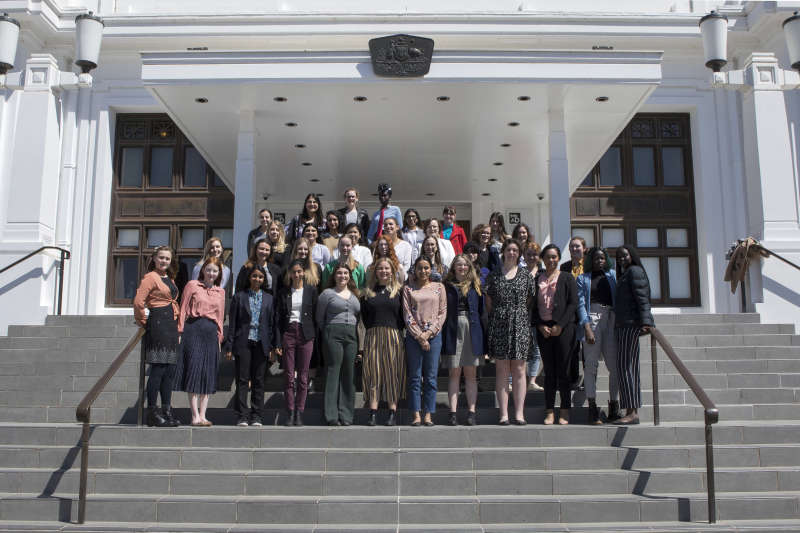 Lauren: 'I wasn't sure what to expect… I'd never been much of an activist…'
When I first stepped through the doors to the Museum of Australian Democracy at Old Parliament House, I wasn't quite sure what to expect. I had never been much of an activist when it came to politics and parliament, often feeling quite overwhelmed with all the processes, functions and proceedings that went along with it. However, this training weekend gave me an easy-to-grasp insight into how parliament works, and more importantly, how women have carved out a place for themselves in parliament and leadership roles more broadly.
On our first day of the workshops, we walked through Old Parliament House, learning the foundations of democracy, why it is so important and how we need to work hard to maintain it in our country.

In a way, democracy is like learning a new skill:  you need to keep at it, keep trying to improve it or else it will fall by the wayside. It was a big 'lightbulb' moment for me when I realised that Australia is one of very few countries that would allow a civilian young girl or woman a behind-the-scenes look into politics, parliament and working one-on-one with an elected politician.
Rebecca: 'There are pathways that can be carved to create change'
My observances of the world as a whole lead me to hold the assumptions that while democracy is clearly declining in quality in much of the western world, there is very little concern about this amongst the wider population. However, the Girls Takeover Parliament training weekend was an important counter to this perceived apathy, showing that there are pathways that can be carved to create change under the current system and there are a wide range of people accessing these pathways.
It is easy when studying political science in Canberra to get stuck in a bubble of sorts where almost everyone is coming from a very similar perspective and with similar ideas about how to change the world. However, the training weekend allowed me to expand my view to hear the perspectives of people studying in other fields who had different approaches to the concept of leadership. As Museum of Australian Democracy staff pointed out, the irony of such a diverse and committed group of young women meeting and learning in this space was obvious.

The history of MoAD is the history of Australian politics, and it's extensively white, straight, male, able-bodied character makes it clear why a program such as Girls Takeover Parliament is so important to participants and Australian society.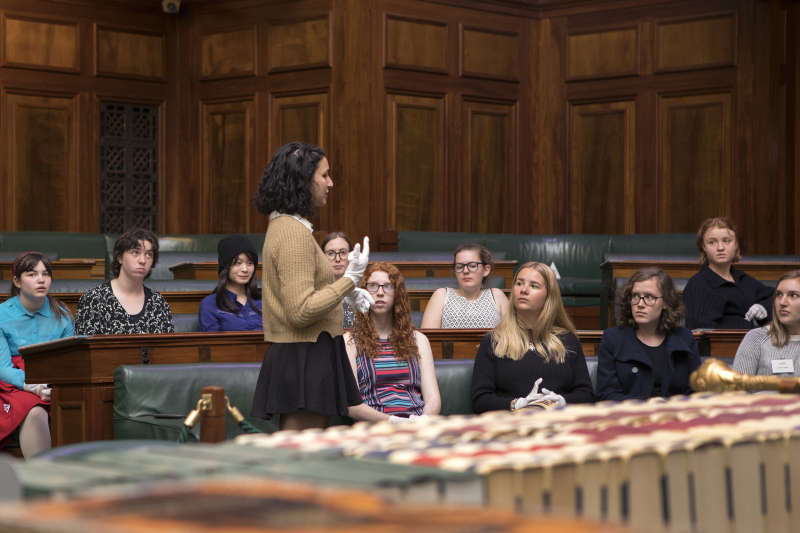 Adeline: 'I entered a new realm of understanding Australian democracy'
On the weekend of the 7th and 8th of September, I had the privilege to spend time at the Museum of Australian Democracy, in Old Parliament House. Together with the people from Jasiri, Girls Takeover Parliament, and my fellow young women, I entered a new realm of understanding Australian democracy.
Overall, the weekend was exciting but with challenges. We were challenged to think beyond our personal views, and confronted with differing opinions. The challenge lay in how to reconcile such differences, how to see the virtue in other people's opinion and perhaps, re-analyse our own opinions. This, indeed, is a reflection of democracy itself.

 Despite the fact that we were joined together by the passion of wanting to have more women's representation in parliament, our backgrounds, environment, and experiences meant that we had differing opinions on how to achieve such outcomes, and what priorities must be set. What the experience on the weekend showed me is that there are ways to healthily debate these differences in a manner that is respectful and understanding.