From the blog
Resilience and Hope: Four powerful and personal stories of survival and migration
Art can tell personal stories, powerfully. In the museum's exhibition, The Gift: Art, Artefacts & Arrivals, four artists portray Holocaust survivors through video, sculpture and photography. Each reveals the personal stories behind their experiences and the significance and power of treasured objects.
The Kohn family
Linda Wachtel's photographic portrait of Adolek Kohn and Marysia Wojdyslawska and their descendants is a powerful testament to survival. Adolek and Marysia were liberated from the Auschwitz concentration camp in 1945, and within four years arrived in Sydney with their baby daughter. Their immigration story embodies resilience, courage and hope.
Titled We Are Here, Wachtel's individual portraits of the Kohns are printed almost life-size on a single roll of paper that wraps around three walls of a small room. Wachtel chose the scroll format to suggest continuation and antecedence. The paper portrait rolls both into the past and into the future – a reference to those who went before and descendants yet to come. The scale of the work allows the viewer to meet the gaze of the sitter, allowing for close engagement with each individual photographed.
The Kohn family portrait is uplifting. Watchel comments:
Their story, like so many others welcomed into Australia, is a story or resilience and hope, and a reminder of the contribution new immigrants have made to the social, cultural and economic growth of Australia.

Accompanying the portrait is a leather suitcase, a tangible and familiar symbol of the Kohn's journey of migration. Visitors can make out Adolek's name scrawled into the wrinkled face of the leather.
Richard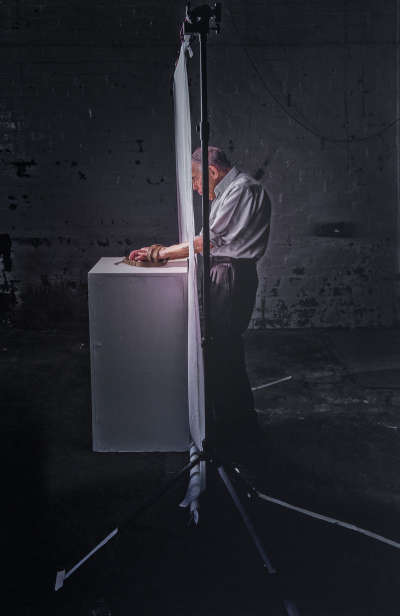 A photograph and a very well-worn belt are at the centre of artist Hedy Ritterman's collaboration with Holocaust survivor, Richard. Born in Poland, Richard survived incarceration in three concentration camps before arriving in Australia in 1950. In 2014, at the age of 94, he was ready to recount his story.
The photograph Richard was captured by Ritterman and portrays Richard dramatically spot-lit in a darkened space, reaching through a shroud-like length of muslin inscribed with his story. Behind the muslin, displayed on a white plinth, is Richard's most treasured possession, his belt. The photograph becomes the reference point for the installation, which includes audio, photography and objects.
Richard's belt was a significant memento of his survival; the only possession he managed to keep with him during the long years of incarceration in the camps. Ritterman recorded Richard telling his story, and his gentle aged voice fills the exhibition space:
I did not ever leave my belt – I showered with it and slept with it in fear of it being stolen. The guards all through my incarceration saw that I showered with it but chose not to acknowledge it. Another amazing piece of luck – this enabled me to own one precious possession from my life before the war. The belt signifies so much and is a treasure I guard fiercely.
Richard died shortly after collaborating with Ritterman, rendering his story even more poignant. Of the artwork Ritterman states:
 [Richard] gifted his words and most valuable possessions to me with the proviso – that I pass it on for future generations 'to know'.
Alsbeta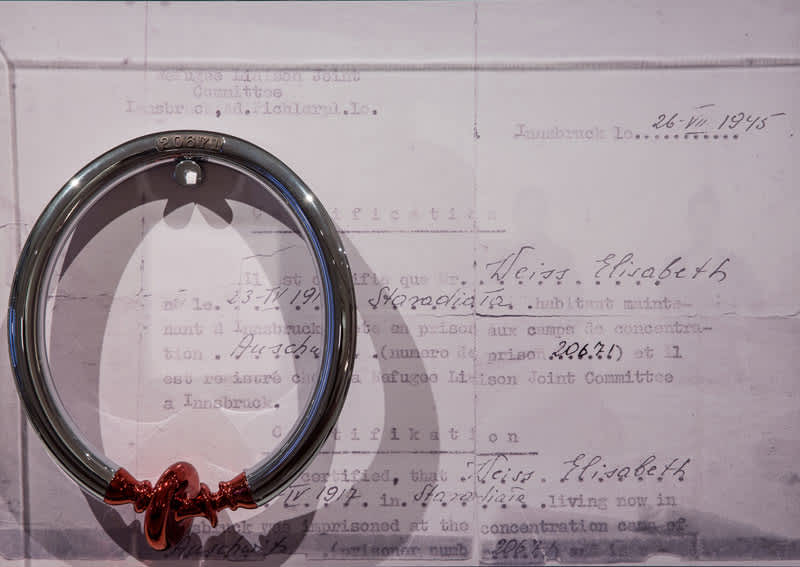 In Prisoner 20671 artist Lousje Skala uses the twin media of art-jewellery and photography to tell the life story of her mother-in-law, Alsbeta Weisz. A survivor of Auschwitz, Alsbeta Weisz migrated to Australia in 1950. Alsbeta's life unfolds symbolically through six torcs mounted over six archival photographs tracing significant moments in her life; before the war, as a prisoner, her immigration to Australia, and her legacy.
Each torc is a solid form and imbued with heaviness while still delicately glimmering and reflecting light. The impression of weight is symbolic of the trauma of the war that Alsbeta carried with her to Australia.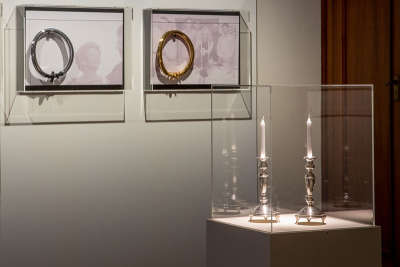 Accompanying the artworks are a set of Shabbat candlesticks, which have both symbolic and personal significance. The candlesticks are the only objects Alsbeta managed to keep from her family home in Czechoslovakia. Skala describes the importance of the candlesticks to the work:
Though their restitution remains a mystery, their significance both to her [Alsbeta] and the Jewish faith that recognises the flame as a symbol for the human soul and serves as a reminder for the frailty and beauty of life is fundamental and is the narrative explored throughout this body of work.
Skala's artwork is profoundly hopeful. The last of the torcs in the series, Legacy, is a glossy yellow gold suggesting prosperity. The photograph accompanying the necklace depicts Skala lighting a candle in the Shabbat candlesticks with her family gathered around. Alsbeta Weisz' legacy is present in this image – her descendants gathered in the enactment of tradition.
Marta and Josef
Artist Linde Ivimey created the video Heirloom, and sculptural figures Peyzer and Blake, in response to the harrowing story of young twins Marta and Josef Kleinmann who were separated at Auschwitz. When Josef was liberated in 1945, he began a life-long search for his twin Marta, sensing that she was still alive. Josef's story and his pleas for assistance to find his sister resonated strongly with Ivimey, who responded through sculpture:
I made 30 completed sculptures in crystal, glass and water because I could not work with bone and tooth and rag – my familiar materials were too brutal to make a portrait of my dear survivor, Josef Kleinmann.
The video Heirloom depicts one of these sculptures; a fountain of water bubbles up and overflows over silver, glass and crystal. The film is a meditative repeat of the movement between overflow and depletion, water forever filling up and being drawn away. Ivimey describes the film as being a gift to Marta and Josef:
I have included Heirloom as a gift to commemorate everything they have missed sharing together in life and to acknowledge the fragility and strength that forms the substance of anything or any tradition or anyone that survives from that time to this.
The portrait of the twins, Peyzer and Blake, embodies this tender line between fragility and strength. The solid resin forms of the embracing figures are wrapped in a netted 'skin' of vulnerable bones. The piece is both a portrait of Marta and Josef, and a reflection on Ivimey's own Jewish-German and Catholic-Irish immigrant background.
---
The Gift is an evocative presentation of personal stories of survival and hope that cleverly combines original objects with contemporary artworks. Through art and objects we are treated to a generous insight into the journeys of the Kohn family, of Richard, of Alsbeta, and of Marta and Josef. The Gift: Art, Artefacts & Arrivals is on display until mid-2018.
The photographs accompanying this blog post were taken by Stefan Postles.