Return to exhibitions
1901 Unearthed: the lost election papers
Past exhibition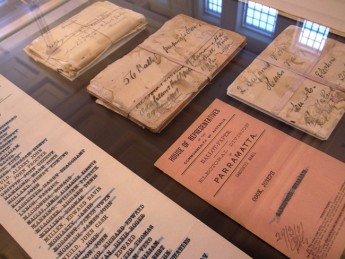 A ballot paper for the electoral division of Parramatta. One of the candidates was Joseph Cook, who would become Australia's 6th prime minister in 1913.
These remarkable papers from the 1898 Constitution referendum and the 1901 election survived for decades in a shed in rural New South Wales. Badly damaged by water and bird droppings, they were found by chance in the 1970s by Mr Garrett Barry, the History master at Riverstone High School in the Parramatta area, after he encountered school students smoking hand-made cigarettes using some of the ballot papers.
It's unclear why the Returning Officer for Parramatta, JB Johnston, did not return them to New South Wales electoral officials after he collected them at the time of the ballots. On discovering the papers Mr Barry contacted state archives and received permission to retain most of them. The museum obtained a selection of the papers in early 2013 and they have been painstakingly conserved.
The museum is proud to present these rare papers from the 1901 election in public for the first time.