Return to exhibitions
Breaking Through: 75 years of women in Parliament
Temporarily closed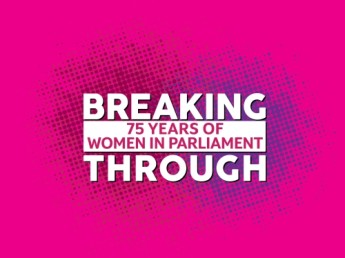 Today women still only represent 1/3 of Australian Federal Parliament. 
Why did it take so long for women to get elected? And once they were there, what was their experience within the parliament?
To celebrate the 75th anniversary of the first women elected to Australian Federal Parliament, Breaking Through exhibition at the Museum of Australian Democracy explores the journeys of 11 trailblazers who were the first to hold particular parliamentary positions.
These are stories of resilience, perseverance and ground-breaking achievements.
From 1943 when Dorothy Tangney and Enid Lyons were the first women elected to parliament through to today where woman have held the highest positions in all areas of parliament, including Prime Minister.
Breaking Through exhibition, recognises the significant contribution these women made in Australia's democracy.  Look back on their lives, uncover their motivations and what they view as their greatest achievements.
Told through never before seen portraits, each a unique representation by a young artist, and powerful stories of change-makers breaking through, this exhibition will inspire visitors to think about the role of women in parliament, what it took to get there and whether we've come far enough.