Return to exhibitions
The Gift: Art, Artefacts & Arrivals
Past exhibition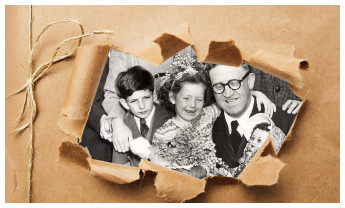 The Gift is a challenge and an invitation.
It challenges us to think of immigration as an exchange of gifts. Both Australia and our new arrivals give and receive through immigration. It challenges us to see the experience of immigration through the lens of contemporary artworks. And it invites us to write a welcome to Australia on cards that will be given to new Australian migrants.
Our story resonates with the experience of immigration. People come to Australia in search of a better life or sometimes escaping from an intolerable one. Australians greet immigrants with generosity or occasionally with a fear of the unknown or difference. Whatever the balance of these attitudes is, immigration is always an exchange; Australians give and receive, as do our new fellow-citizens. The gifts of immigration are tangible; Australians give freedom, prosperity, safety, while immigrants give us expertise, prosperity and diversity. But the gift is also symbolic.
In this exhibition, we explore this exchange through five stories.
In 1949 eight-year-old Isobel Saxelby was given gifts when she arrived in Australia, the 100,000th postwar British immigrant. She was given a toy koala, a book about Australia and sprigs of wattle; symbols of their new home and of what Australia had to offer them.
The works of contemporary artists Lousje Skala, Hedy Ritterman, Linde Ivimey and Linda Wachtel, all family members of Holocaust survivors who immigrated to Australia at the end of World War II, tell four different stories. Their works, although tinged with a sense of loss and poignancy, also speak of the gift; the gift of a new life, the gifts that pass between generations, and the gifts that those generations can give to Australia.
---
In this film Lousje, Hedy, Linde and Linda introduce their work and read some of the powerful messages that visitors to the exhibition have written to new migrants.
Videographer: Hew Sandison
---
About the artists
Lousje Skala is a Melbourne-based artist working with contemporary jewellery. She holds two Masters degrees (Visual Art and Fine Art) from Monash University. Her work has been included in local and international exhibitions including Melbourne Now at the National Gallery of Victoria (2013). Her work is held in collections including the Museum of Applied Arts and Sciences, Sydney and the Musee des Arts Decoratifs, Paris.
Hedy Ritterman has studied the fields of psychology, design, photography and fine arts. Her work has been exhibited locally and internationally, and she is the recipient of the Human Justice Award in the 63rd Blake Prize (2014). Her work has been shortlisted for numerous prizes and she is a founding member of the critical engagement platform for artists, The Contemporary Collective.
Linde Ivimey is a Sydney-based artist who undertook her first art studies in Perth. She began lecturing in art and design in Western Australia and continued after moving to Melbourne in the late 1990s. Her work has been the subject of the survey exhibitions Close to the Bone at Heide Museum of Modern Art, Melbourne (2003) and the touring exhibition If Pain Persists, UQ Art Museum, Brisbane (2012).
Linda Wachtel is a Melbourne-based photographer who completed her Master of Fine Art in Photomedia at Monash University in 2014. Her work has been exhibited in Australia and internationally, and she has been shortlisted for numerous awards including the Blake Prize, National Photographic Portrait Prize, the Moran Contemporary Photographic Prize and the Olive Cotton Award.