Return to exhibitions
#UDHRquilt Project
Now open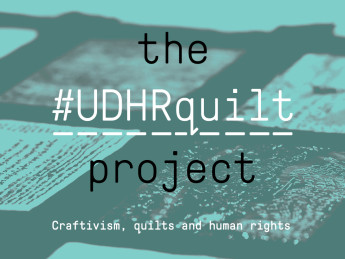 Craftivism is a global movement that uses craft for political expression and activism. Craftivism is a powerful way to have your say and transform your world—one stitch at a time.
The #UDHRquilt Project was initiated by American craftivist Stephanie Dunlap. She reached out to Melbourne-based artist Tal Fitzpatrick with an idea for a collaboration interpreting the Universal Declaration of Human Rights (UDHR). When the pair turned to social media to find some helping hands, they were overwhelmed by the international response. The result is four quilts, embroidered in 26 languages, exploring the essential rights and values inherent in all human beings.
Some quilt blocks are charming; others challenge and rage. Some are astonishing in their complexity. Many took months to make. Joining these blocks into patchwork masterpieces, the craftivists tell stories from their own lives, and the experiences that touch us all.
 Workshops and activities
Feeling inspired? The power is in your hands! Join our range of how-to craft workshops and artists' talks by subscribing to our mailing list or checking out our Facebook  and Instagram accounts.
Yumi Olgeta embroidery pattern download
In August 2019, we hosted 'Yumi Olgeta', an inclusive craftivism workshop exploring the history of Australian South Sea Islander people and the Australian 'blackbirding' trade. Participants took part in a making experience using 'chain stitch' on a specially designed embroidery pattern acknowledging the 25th anniversary of national recognition of Australian South Sea Islanders.
Download the chain stitch instructions and the embroidery pattern, and start making at home.
Booking the Maker Space
Need a space for a crafternoon and don't have room at your place? Book the #UDHRquilt Project: Maker Space online.
Can't make it to MoAD?
Then make MoAD come to you. Learn more about the project, the quilts and the craftivists at the #UDHRquilt Project website.