All schools resources
Media Literacy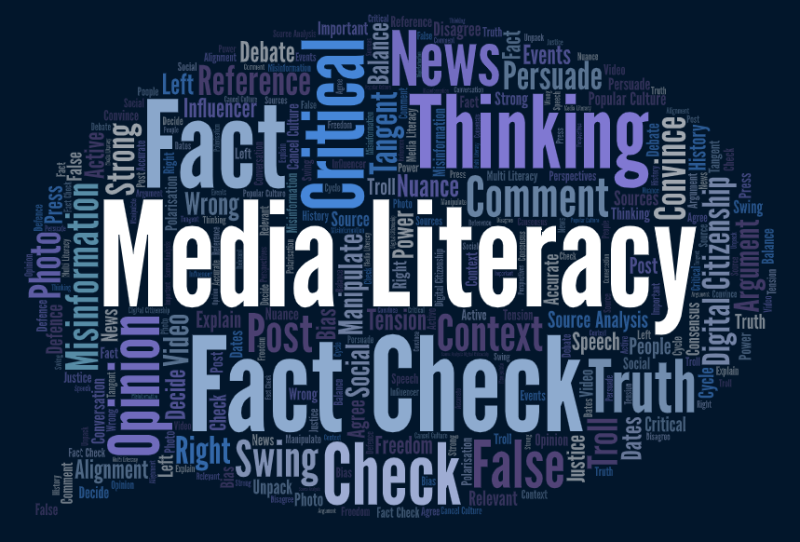 What is media literacy?
Explore some of the basics of media literacy through our engaging infographic here.

We are committed to supporting students and teachers to develop the critical thinking skills required to effectively engage with information online. Fundamental principles of our democracy include the right to access information, speak up and express our opinion. We want to ensure that all young people understand their rights and responsibilities when communicating and accessing information online, whether it be through digital and social media, researching content or reading the news.  
The resources below, and links to our partners' content, have been created to support primary and secondary teachers exploring media literacy, fake news, critical thinking and digital citizenship.
---
Exploring Media Literacy
This fantastic infographic created in collaboration with Sarah Firth will help hook students into reflecting and considering a range of questions and information about media literacy.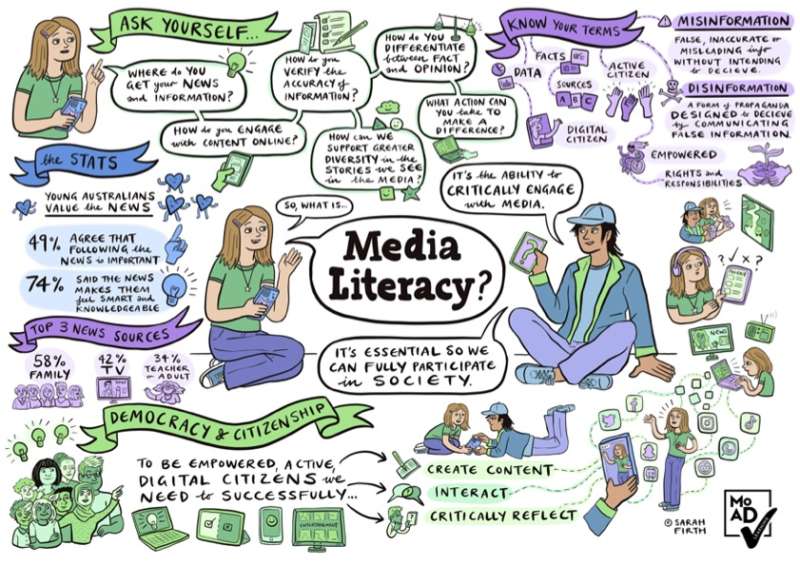 ---
Media Literacy Thinking Hats
These templates will support students to develop their critical thinking skills when viewing different types of media including entertainment, news, social media and advertising.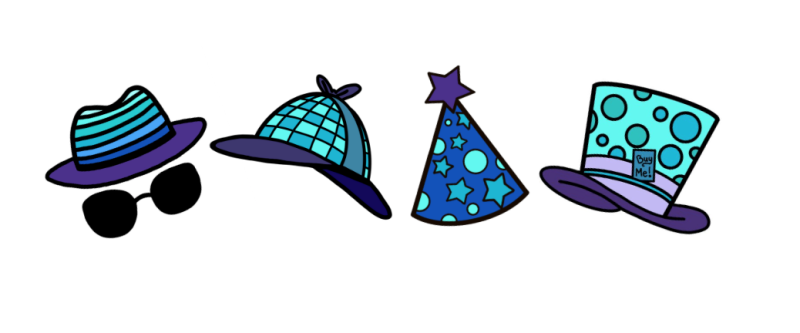 Download the Media Literacy Thinking Hats Collection here.

Individual Activity Sheets from the Collection:
---
PM's Daughter Media Literacy Resources 
We have partnered with The Australian Children's Television Foundation (ACTF) to create a resource supporting the new televsion show The PM's Daughter available on iView.
The PM's Daughter is a 10-part live action series set in Canberra, the heartland of Australian politics, produced by Fremantle for the ABC. It tells the story of Catalina Parkes Pérez, a teenager who's like any other, but with one difference: her mother is the new Prime Minister of Australia.
The resources consist of activities which utilise content from the series coupled with active student participation, building knowledge of our democratic processes and civic responsibilities with a strong focus on developing media literacy and critical thinking skills.
The Media Kit
This workbook supports students through the process of creating their own podcast episode, news report, radio segment and much more! The Media Kit activity (4.9 MB)

---
Digital Savvy Citizens
Support young people to become empowered media literate citizens through a range of engaging activities. Digital Savvy Citizens Matrix activities (345 KB)

---
Digital Citizenship Mascot
Challenge your students to develop their media and digital literacy skills through this exciting, hands-on STEM Challenge.
This resource was created in partnership with STEM | ED Magazine.

---
News Champions Forum
In October 2019, 21 young people aged 10 to 17 years from all across Australia gathered at MoAD for a media literacy 'News Champions Forum'. They discussed the news, its role in our democracy and how young people are represented in Australian news media. In these YouTube clips you can explore their responses and ideas around media literacy.
---
Young People News Poll
A new poll was designed by students at the 2019 News Champions Forum for 10 to 17 year olds. Its goal is to provide feedback on what young people think about what they read in the media and how they are represented. The poll was conducted in late 2020 with young people from across Australia participating.
Access the finding here (544 KB)
---
Social Media Check In
This resource has been designed to open a conversation with secondary students about their use and engagement with social media: digital citizenship resource (711 KB)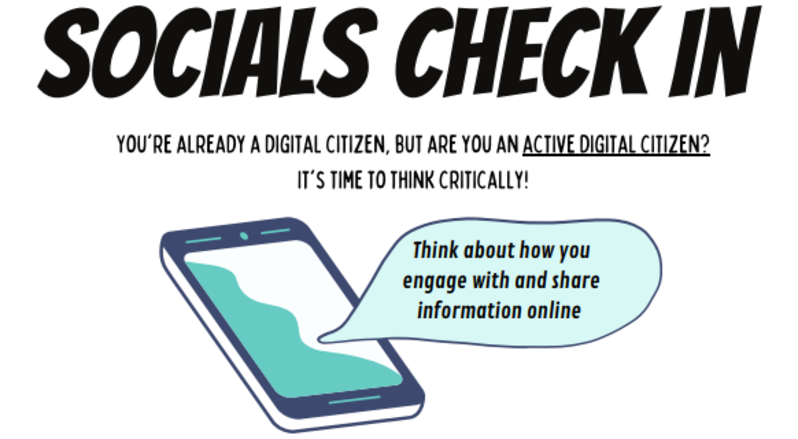 ---
Media Literacy Framework 
The Australian Media Literacy Framework was created by partners in the Australian Media Literacy Alliance (AMLA).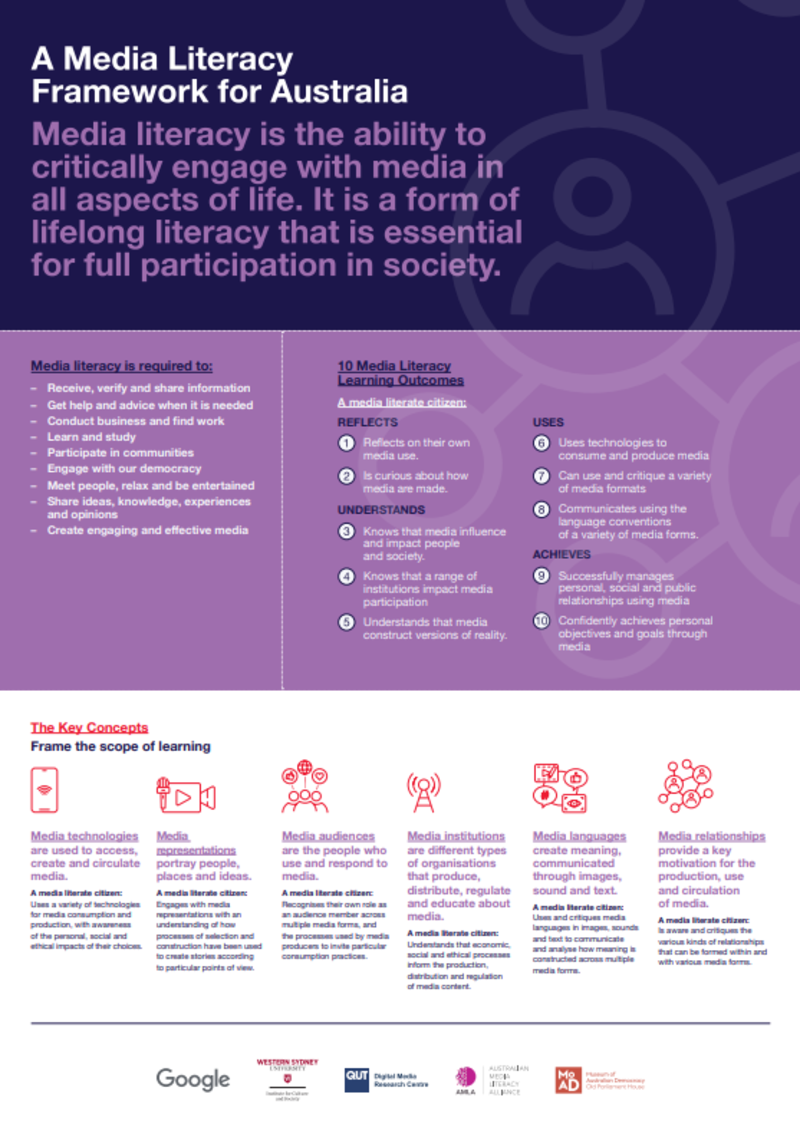 In 2020 AMLA implemented Australia's first nationally representative survey on media literacy. The survey was designed with input from diverse voices in the media literacy field including researchers, media producers, policymakers, government agencies, educators and public cultural institutions.
The full report can be accessed via the AMLA page
https://medialiteracy.org.au/index.php/national-survey/
---
Highly recommended resources
Australia Library and Information Association
Alannah and Madeline Foundation – Media Literacy Lab
Australian Children's Television Foundation
National Film and Sound Archives
National Association for Media Literacy Education (NAMLE)
---
*Australian Curriculum v9 – Curriculum Learning Areas
HASS
Civics and Citizenship
Media
Arts